Table of Contents
Ready to explore Portugal? Whether you're a first-time visitor or returning traveler, this 10-day itinerary is sure to give you an extraordinary experience. From popular attractions and the best places to visit uncovering hidden gems and cultural treasures, this blog has everything you need to make your Portuguese adventure unforgettable!
So what are you waiting for? Let's start exploring Portugal.
Visiting Portugal
From the hustle-bustle of bustling Lisbon, the cascading waterfalls in Coimbra, and the regional sausage specialties of Porto – there's something for everyone during a 10-day exploration of this delightful country. Let us show you why Portugal is one of Europe's go-to travel destinations with this comprehensive guide filled with itineraries and tips tailored just for you. Come along as we uncover Portugal's best attractions, classic dishes, and unique experiences.
10-Days in Portugal
If you're looking to travel to Portugal, we've got the perfect 10-day itinerary for you. From the expansive beaches in the Algarve region to the historic landmarks in Porto and Lisbon, there's something for everyone.
Begin your journey in Lisbon and explore the charming streets of Alfama, catch a tram ride up to the Bairro Alto district for panoramic views, and indulge in some of the best seafood in the city. Then make your way to Porto to visit the famous port wine cellars and walk across the picturesque bridge for stunning views of the Douro River. End your trip by relaxing on the golden beaches of the Algarve and soaking up the sun. With this itinerary, your trip to Portugal is sure to be a memorable one.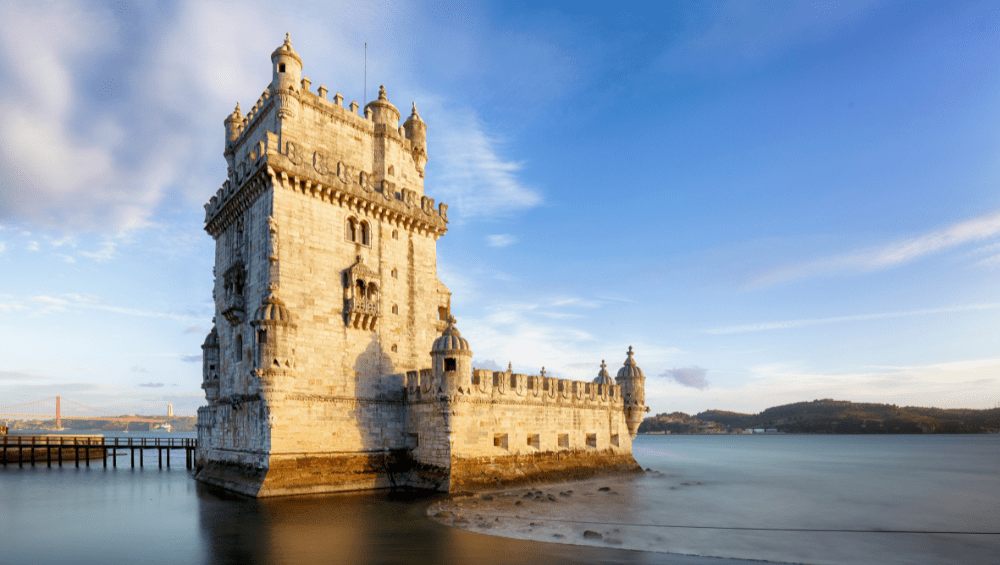 Day 1: Lisbon
Arrive in Lisbon, Portugal's vibrant capital city.
Explore the historic neighborhoods of Alfama and Baixa, visiting iconic landmarks like São Jorge Castle and Lisbon Cathedral.
Take a stroll along the colorful streets of Bairro Alto and enjoy traditional Portuguese cuisine at a local restaurant.
End the day with panoramic views of the city from Miradouro da Senhora do Monte.
Day 2: Sintra and Cascais
Take a day trip to Sintra, a picturesque town known for its fairytale-like palaces and gardens.
Visit Pena Palace, a UNESCO World Heritage site, and explore the beautiful gardens of Quinta da Regaleira.
In the afternoon, head to Cascais, a charming coastal town with sandy beaches and a lively marina.
Enjoy a leisurely walk along the promenade and indulge in fresh seafood at a local restaurant.
Day 3: Porto
Travel to Porto, Portugal's second-largest city, known for its historic center and port wine production.
Explore the Ribeira district, a UNESCO World Heritage site, and visit the iconic Dom Luís I Bridge.
Take a boat tour along the Douro River and learn about the process of making port wine.
Sample local delicacies like Francesinha, a traditional Portuguese sandwich.
Day 4: Douro Valley
Embark on a day trip to the Douro Valley, a picturesque wine region renowned for its vineyards and terraced landscapes.
Visit local wineries and enjoy wine tastings while taking in the scenic views of the Douro River.
Take a leisurely boat ride along the river, admiring the vine-covered hillsides.
Day 5: Coimbra
Journey to Coimbra, a historic university city with a rich cultural heritage.
Explore the medieval Coimbra University, one of the oldest universities in the world.
Visit the stunning Joanina Library and the Santa Cruz Monastery.
Enjoy a traditional fado music performance in the evening.
Day 6: Aveiro and Costa Nova
Travel to Aveiro, known as the "Venice of Portugal" for its charming canals and colorful Moliceiro boats.
Take a boat tour through the canals and sample the famous local sweet treat, ovos moles.
Visit Costa Nova, a nearby beach town with its iconic striped houses and sandy shores.
Relax on the beach and savor fresh seafood at a local restaurant.
Day 7: Évora
Head to Évora, a UNESCO World Heritage city known for its well-preserved Roman ruins and medieval architecture.
Explore the ancient Roman Temple of Évora and the impressive Cathedral of Évora.
Visit the Chapel of Bones (Capela dos Ossos) and stroll through the narrow streets of the historic center.
Taste Alentejo's traditional cuisine and wines at local eateries.
Day 8: Lagos and the Algarve
Journey to Lagos, a coastal town in the Algarve region, known for its stunning cliffs and picturesque beaches.
Explore the Ponta da Piedade cliffs and take a boat tour to admire the rock formations and caves.
Relax on the sandy beaches and soak up the sun.
Enjoy fresh seafood at one of the beachfront restaurants.
Day 9: Faro and Tavira
Visit Faro, the capital of the Algarve region, and explore its historic center, including the Cathedral and Faro Old Town.
Take a short trip to Tavira, a charming town with its Roman Bridge and picturesque streets.
Explore Tavira Castle and enjoy panoramic views of the town.
Relax on the beaches of Ilha de Tavira, accessible by a short boat ride.
Day 10: Lisbon
Return to Lisbon for a final day of exploration.
Visit the historic Belém district and see the iconic Belém Tower and Jerónimos Monastery.
Taste the famous Pastéis de Belém, a traditional Portuguese custard pastry.
Spend the afternoon shopping for souvenirs in the lively Baixa district.
This 10-day itinerary provides a taste of Portugal's rich history, vibrant cities, stunning landscapes, and delicious cuisine. Feel free to customize it based on your preferences and the time you have available.
Book the 10 Cities in Portugal

Traveling to Portugal is an enriching experience that offers a vibrant mix of culture, scenic views, and iconic landmarks. Portugal is home to an array of famous landmarks and attractions that continue to draw millions of visitors from around the world every year. From the stunning Sintra National Palace to the charming medieval district of Lisbon, there is so much to explore and discover in this magnificent country.
Here are 10 famous cities in Portugal:
Lisbon
Lisbon is the capital of Portugal and is one of the most popular tourist destinations in the country. The city is home to a number of historic landmarks and attractions, including the Castle of Sao Jorge, the Belem Tower, and the Jeronimos Monastery. Lisbon is also a great place to enjoy the Portuguese food and wine scene.
Porto
Porto is located in northwestern Portugal and is best known for its port wine. The city is home to a number of historic landmarks and attractions, including the Porto Cathedral, the Palacio da Bolsa, and the Serralves Foundation. Porto is also a great place to enjoy the Portuguese food and wine scene.
Sintra
Sintra is located in western Portugal and is best known for its castles and palaces. The town is home to a number of historic landmarks and attractions, including the Pena Palace, the Castle of the Moors, and the Quinta da Regaleira. Sintra is also a great place to enjoy the Portuguese food and wine scene.
Fatima
Fatima is located in central Portugal and is best known for its religious shrines. The town is home to a number of historic landmarks and attractions, including the Sanctuary of Our Lady of Fatima, the Chapel of Apparitions, and the Basilica of Our Lady of Rosary. Fatima is also a great place to enjoy the Portuguese food and wine scene.
Coimbra
Coimbra is located in central Portugal and is best known for its university. The city is home to a number of historic landmarks and attractions, including the University of Coimbra, Santa Cruz Church, and the Botanical Garden. Coimbra is also a great place to enjoy the Portuguese food and wine scene.
Evora
Evora is located in central Portugal and is best known for its Roman ruins. The city is home to a number of historic landmarks and attractions, including the Temple of Diana, the Roman Baths, and the Evora Cathedral. Evora is also a great place to enjoy the Portuguese food and wine scene.
Guimaraes
Guimaraes is located in northern Portugal and is best known for its castle. The town is home to a number of historic landmarks and attractions, including Guimaraes Castle, Ducal Palace, and Sao Miguel do Covo Church. Guimaraes is also a great place to enjoy the Portuguese food and wine scene.
Tomar
This ancient city is located in the central part of Portugal and has a rich history that dates back to Roman times. Tomar is famed for its remarkable architectural landmarks, including the Convent of Christ, which is a UNESCO World Heritage site. The town is also surrounded by stunning natural beauty, so it's a great base for exploring the beautiful countryside and taking some breathtaking photos.
Obidos
The charming medieval town is located just an hour north of Lisbon and is one of the most well-preserved historic destinations in the country. Wander through the narrow cobbled streets, admire the colorful tiled houses, and take in the stunning views from the massive castle that overlooks the town. Obidos is also known for its traditional cherry liqueur, which you can sample at the local cafes and bars.
Madeira Islands
Located off the coast of Portugal, the Madeira Islands offer a unique travel experience filled with breathtaking views and stunning landscapes. With its mild climate and diverse flora, this archipelago is perfect for nature lovers and adventure seekers alike. Visitors can take advantage of numerous hiking trails, taste the local cuisine, and explore the local history and culture. The Portuguese influence is evident in the vibrant architecture and friendly locals who are always eager to share their stories.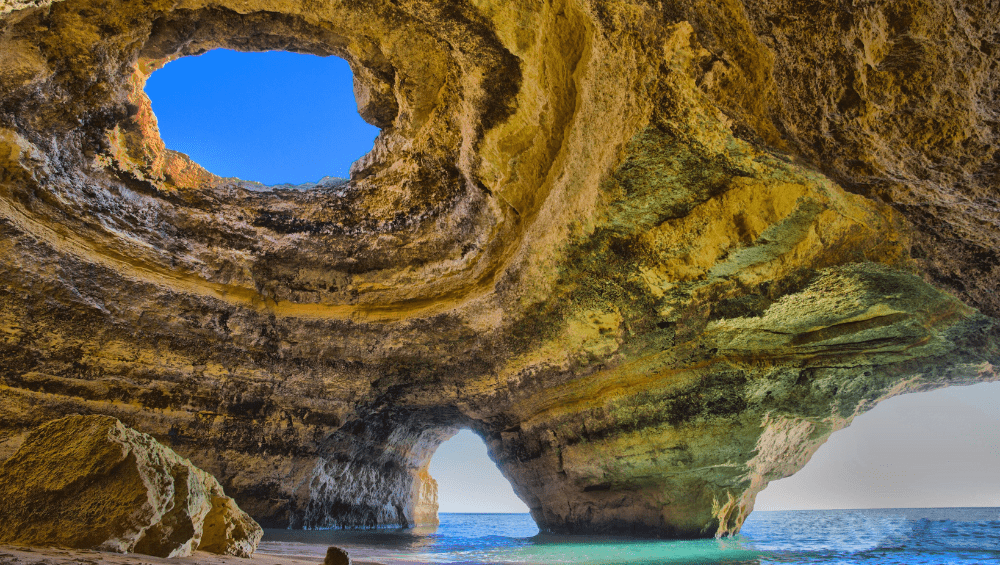 Best Dishes in Portugal
If you're planning to travel to Portugal, make sure you come with an empty stomach because the country is known for its incredible cuisine. Portuguese food is all about simple ingredients, bold flavors, and hearty dishes. Whether you're in a bustling city or a small town, you're bound to come across some mouth-watering seafood, grilled meats, and delicious pastries.
Some must-try dishes include grilled sardines, cozido, and bacalhau. And don't forget to indulge in a few pastéis de nata for dessert! So, if you're looking to explore the food scene in Portugal, come prepared to eat your way through this beautiful country.
Languages in Portugal
While Portuguese is the official language of Portugal, there are also several other languages spoken in different regions. For example, Mirandese, a minority language, is spoken in the region of Miranda do Douro. Additionally, some people in the Azores speak Azorean Portuguese, which has its own distinctive accent. Knowing these differences can make your travel experience in Portugal even more enjoyable and you may even impress locals with your knowledge of their language diversity.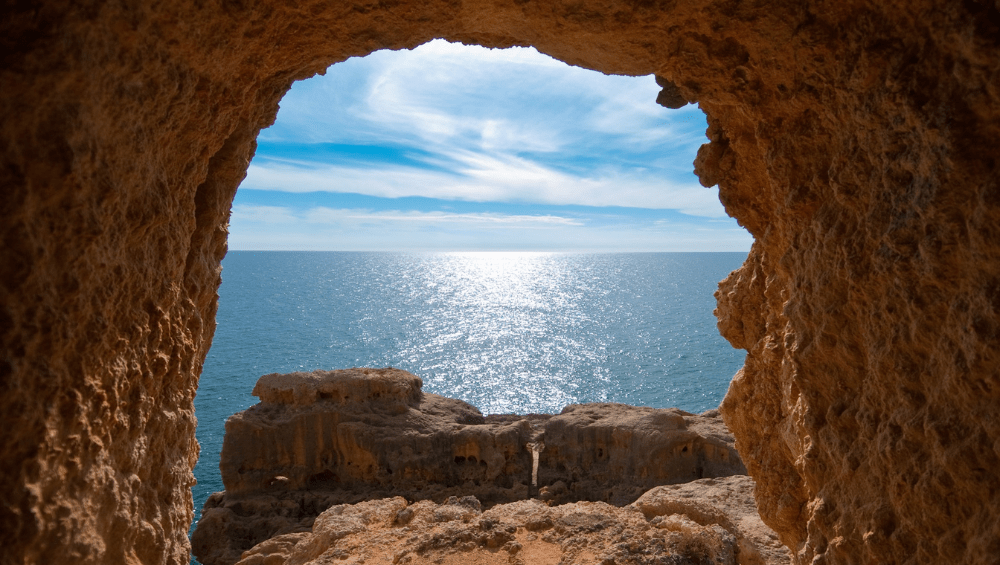 Portugal 10-Day Itinerary
To wrap up this 10-day Portugal itinerary, I'd like to emphasize that this is just a beginning point for all of the incredible sites, experiences, and moments you'll uncover in this remarkable country. With stunning natural landscapes from north to south and a deep cultural heritage everywhere you turn, Portugal offers one of Europe's most diverse and fascinating destinations. Now happily armed with your 10-day outline for exploring its cities and charming countryside, what are you waiting for?
Portugal FAQs
If you're planning to travel to Portugal, it's normal to have some questions and concerns. Thankfully, we've compiled a list of Portugal FAQs that will help guide you toward a smooth and stress-free trip. Portugal is a beautiful country with a gorgeous coastline, colorful cities, and plenty of rich cultures to explore. From learning about the history of Lisbon's architecture to indulging in some of the freshest seafood dishes, there's certainly a lot to do in Portugal.
So, to make sure you have a hassle-free trip, here are the answers to some of the most frequently asked questions about Portugal.
What is the best time of year to visit Portugal?
The best time to visit Portugal really depends on what your primary focus is for your trip. If you're looking for warmer weather and fewer crowds, then spring (April-May) and autumn (September-October) are ideal times to visit. For beachgoers looking for the best temperatures and waves, summer months like July and August may be more suitable.
How much money should I bring to Portugal?
Planning ahead will help ensure that you enjoy a stress-free experience in Portugal without worrying about running out of money. Prices in Portugal can vary significantly depending on your location, so it's best to research and plan ahead. As a rule of thumb, it's always advisable to bring enough cash for any emergency that you may encounter while traveling in Portugal.
Is there anything else I should know about Portugal?
Yes! It's important to remember that Portuguese culture is very laid-back and relaxed, so be sure to take your time when exploring the country and enjoy the experience fully. Additionally, Portugal has an impressive network of public transportation and bike rentals so you can get around easily without breaking the bank. Finally, don't forget to pack comfortable shoes as you'll be doing plenty of walking during your trip!
Is Portugal safe for a female traveling alone?
Yes, Portugal is generally quite safe for female travelers. However, it's always best to stay vigilant and exercise common sense precautions like staying in well-lit areas and avoiding secluded spots at night. Additionally, it's important to be aware of the local customs and dress appropriately when visiting religious sites or more traditional areas.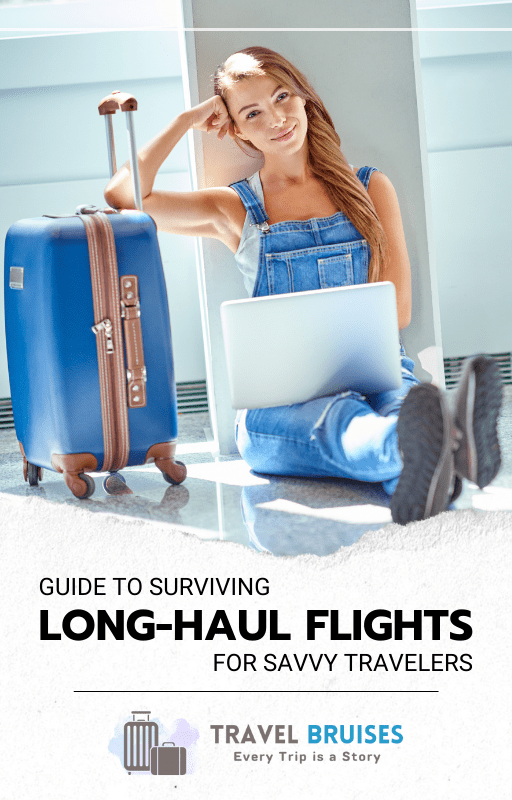 Discover the Ultimate "Surviving a Long-Haul Flight Guide"
Whether you're jetting off to a distant paradise, exploring a vibrant city, or visiting loved ones on the other side of the world, we know that surviving a long-haul flight is no small feat. But fear not, wanderlust seeker, because we have the ultimate solution to make your journey an absolute breeze!
Don't let a long-haul flight be a roadblock to your travel dreams. With our "Surviving Long-Haul Flight Guide," you'll be equipped with the wisdom and knowledge to conquer the skies and make every moment of your journey count.
Download your copy of "Surviving a Long-Haul Flight Guide" and unlock the secrets to conquering those marathon flights like a pro!