Table of Contents
Designing the perfect 15-day tour of India might seem overwhelming due to size. India, a country rich in culture, history, and natural beauty, is a must-visit destination for any avid traveler. With its vast expanse and diverse landscapes, it can be overwhelming to plan a trip that encapsulates the essence of this magnificent nation. Fear not, as we have curated the perfect 15-day itinerary of India that will take you on a journey through the best of India, encompassing its iconic cities, ancient sites, and captivating landscapes.
15-Day Itinerary for India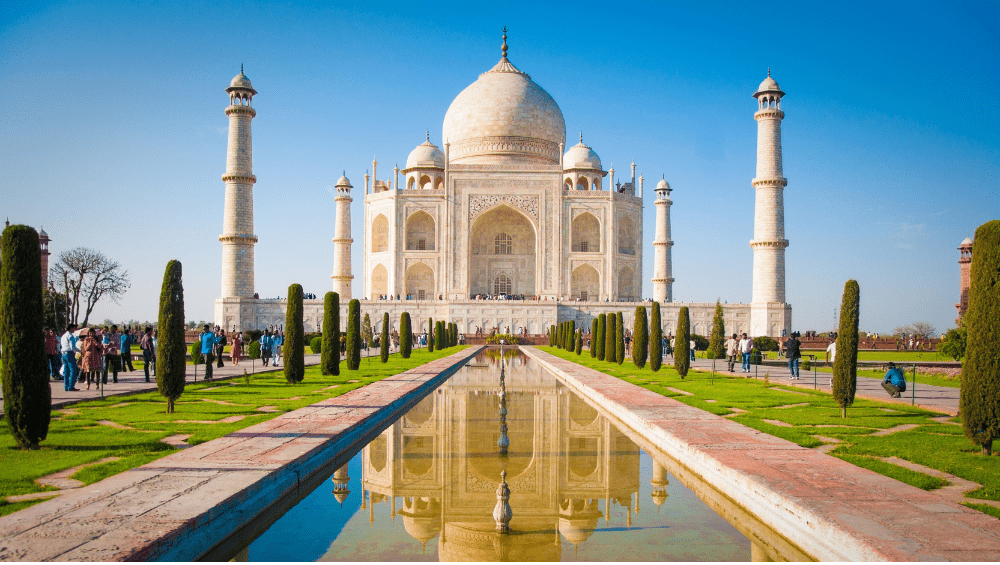 India is a vast and diverse country, rich in culture, history, and natural beauty. Creating a 15-day tour of India might seem overwhelming, but with some insider knowledge, you can make the most of your travels. Begin in Delhi, where you can explore old and new parts of the bustling city. From there, head to Agra to witness the iconic Taj Mahal, a marvel of architecture and beauty.
Continue your journey through Rajasthan, experiencing the vibrant colors and grandeur of Jaipur, Jodhpur, and Udaipur. Take in the serene beauty of the Jain temples in Ranakpur and explore the bustling markets of Mumbai. End your adventure with a visit to the serene beaches of Goa or the ancient ruins of Hampi. With so much to see and do, a 15-day itinerary for India promises to enchant and delight travelers of all kinds.
Day 1-3: Delhi
Your 15-day itinerary of India adventure begins in the capital city, Delhi. As the heart of India's political and cultural landscape, Delhi offers a mix of ancient and modern attractions.
Red Fort: The Red Fort, a UNESCO World Heritage Site, is an impressive Mughal fortress that served as the residence for Mughal emperors. With its intricate architecture and historical significance, it's an essential stop on your tour.
Jama Masjid: As one of the largest mosques in India, Jama Masjid is an architectural marvel that can accommodate up to 25,000 people.
Qutub Minar: This 73-meter high tower, built-in 1193, is the tallest brick minaret in the world and a UNESCO World Heritage Site.
India Gate: This war memorial pays tribute to the Indian soldiers who lost their lives during World War I.
Humayun's Tomb: This 16th-century tomb is the resting place of the Mughal Emperor Humayun and is a magnificent example of Mughal architecture.
Day 4-5: Agra
Next on your 15-day itinerary of India, you will go to Agra, home to the iconic Taj Mahal. This city has more to offer than just the world-famous monument of love.
Taj Mahal: No trip to India is complete without visiting the breathtaking Taj Mahal, built by Mughal Emperor Shah Jahan in memory of his wife, Mumtaz Mahal.
Agra Fort: A UNESCO World Heritage Site, Agra Fort is an essential stop, showcasing the rich Mughal history and architecture.
Fatehpur Sikri: This abandoned city, constructed by Emperor Akbar, houses several historic sites, including the Buland Darwaza and Panch Mahal.
Day 6-7: Jaipur
The Pink City, Jaipur, is the next stop on your 15-day itinerary of India As the capital of Rajasthan, it is known for its stunning forts, palaces, and vibrant culture.
Amber Fort: This 16th-century fort is a blend of Hindu and Mughal architecture, with its intricate carvings and beautiful courtyards.
City Palace: The City Palace complex is an architectural marvel that showcases the grandeur of the royal Rajput lifestyle.
Hawa Mahal: Known as the "Palace of Winds," Hawa Mahal's unique façade was designed to allow royal women to observe the streets without being seen.
Jantar Mantar: This astronomical observatory, built by Maharaja Jai Singh II, features a collection of architectural astronomical instruments, including the world's largest stone sundial.
Day 8-9: Udaipur
Travel to "The City of Lakes," Udaipur as the next stop on your 15-day itinerary of India, known for its picturesque lakes, royal palaces, and vibrant culture.
City Palace: The largest palace complex in Rajasthan, the City Palace of Udaipur is an architectural masterpiece offering panoramic views of the city.
Lake Pichola: Enjoy a scenic boat ride on Lake Pichola, surrounded by beautiful palaces and temples.
Jagdish Temple: This 17th-century temple dedicated to Vishnu showcases intricate carvings and exquisite architecture.
Saheliyon ki Bari: This beautiful garden was built for the royal ladies of the court to relax and enjoy leisurely strolls. With lush greenery, fountains, and marble pavilions, it's a perfect spot for relaxation.
Day 10-11: Jodhpur
The "Blue City" of Jodhpur awaits you with its historic forts and vibrant markets on this part of your 15-day itinerary of India.
Mehrangarh Fort: This imposing fort overlooks the city and houses several palaces, galleries, and temples. A visit to Mehrangarh Fort provides insight into the royal lifestyle of the Rajputs.
Umaid Bhawan Palace: This grand palace, part residence of the royal family and part luxury hotel, features beautiful gardens and a fascinating museum.
Jaswant Thada: This beautiful marble cenotaph commemorates Maharaja Jaswant Singh II and offers stunning views of the city.
Sardar Market: This bustling market is perfect for picking up local handicrafts, textiles, and spices.
Day 12-13: Varanasi
Varanasi, one of the most ancient cities in the world, is known for its spiritual significance and sacred river, the Ganges. This part of your 15-day itinerary of India celebrates the history and culture of this amazing country.
Ganga Aarti: Witness the mesmerizing evening ritual of Ganga Aarti, where priests offer prayers to the sacred river with fire, incense, and chants.
Boat Ride on the Ganges: A sunrise boat ride on the Ganges provides a unique perspective of the city's ghats and the daily rituals of its inhabitants.
Kashi Vishwanath Temple: Dedicated to Shiva, Kashi Vishwanath Temple is a revered site for Hindu pilgrimages.
Sarnath: A short distance from Varanasi, Sarnath is noted as the place Buddha shared his first sermon after enlightenment.
Day 14-15: Mumbai
Conclude your 15-day itinerary of India in Mumbai, the bustling financial capital and home to the glamorous Bollywood film industry.
Gateway of India: This iconic archway, built during British rule, overlooks the Arabian Sea and is a symbol of Mumbai's rich history.
Chhatrapati Shivaji Maharaj Vastu Sangrahalaya (formerly Prince of Wales Museum): This museum houses a vast collection of Indian art, sculpture, and artifacts from ancient to modern times.
Marine Drive: Take a leisurely stroll along the picturesque promenade, soaking in the vibrant atmosphere of the city.
Elephanta Caves: A UNESCO World Heritage Site, these ancient rock-cut caves located on Elephanta Island showcase stunning sculptures of Hindu gods and goddesses.
History of India
India's rich history spans over five millennia, with countless invasions, dynasties, and revolutions shaping its landscape. The Indus Valley Civilization, which existed from 3300 BCE, was one of the earliest and most advanced civilizations of its time. Later, the Mauryan empire saw the emergence of the great emperor Ashoka, who promoted non-violence and Buddhism.
The Mughal era brought with it an unprecedented cultural and architectural renaissance that produced incredible works of art, such as the Taj Mahal. With the arrival of colonialism, India was thrown into turmoil, eventually leading to the Indian Independence Movement and the partition between India and Pakistan. Today, modern India is a vibrant democracy and one of the fastest-growing economies in the world, with its rich history continuing to shape and inspire its people.
Food in India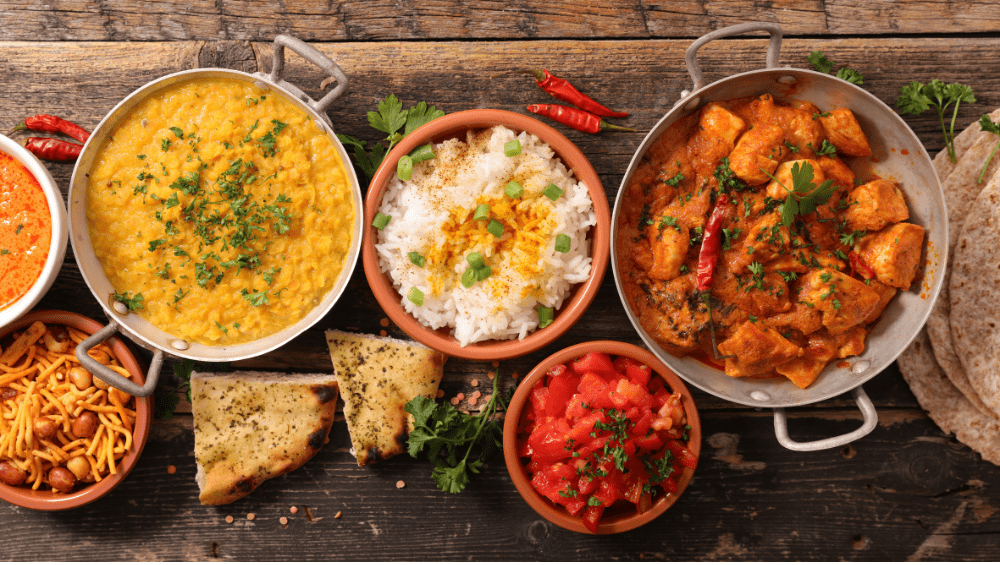 India is a country renowned for its diverse and flavorful food. From street vendors selling spicy chaat to luxurious restaurant meals, the cuisine of India is a true culinary adventure. With a population of over 1.3 billion people, it's not surprising that Indian food features a wide variety of ingredients, cooking techniques, and flavors. Curries, biryanis, and dosas are just a few of the iconic dishes that have become staples of Indian cuisine. The use of spices and herbs is integral to Indian cooking, creating complex and rich flavors that are hard to resist. Whether you're a vegetarian or a meat lover, there's something for everyone in the flavorful world of Indian food.
Language & Culture of India
India has a rich cultural heritage, which is deeply intertwined with its language. Hindi is the official language of the nation, but there are over 22 other languages that are spoken in various parts of the country. The diversity of languages is reflective of the varying cultures and traditions that can be found within India. Each language has its own unique structure, vocabulary, and pronunciation, which adds to the richness of India's cultural tapestry.
Beyond language, during your 15-day tour of India, you will find that India is famous for its rich history, art, and cuisine. The country is home to one of the oldest civilizations in the world and has been a hub of innovation in areas such as mathematics and astronomy. There is no doubt that anyone who delves into India's language and culture will be rewarded with a wealth of fascinating knowledge.
Differences Between North and South India
India is a country with a diversity of cultures and traditions. North India and South India both have their own distinct characteristics that set them apart from each other. One noticeable difference is the climate; while North India experiences extreme weather conditions with hot summers and cold winters, South India has a tropical climate with relatively consistent temperatures throughout the year.
Another difference is the food; North Indian food is known for its use of spices and robust flavors, while South Indian cuisine is characterized by its simpler, lighter, and healthier dishes. These differences are not limited to climate and food, as there are many more variations in language, music, dance, and festivals that distinguish the North and the South. Although both regions are a part of India, the diversity between them adds to the charm of this beautiful country.
Religions of India
India is a melting pot of diverse religions, each with its unique traditions, beliefs, and cultural practices. Hinduism, Buddhism, Jainism, Islam, Christianity, and Sikhism are among the major religions practiced in India, making it a land of religious pluralism. During your 15-day tour of India, you might encounter:
Hinduism, the oldest religion in India, is centered on the concept of karma, dharma, and reincarnation.
Buddhism, born in India during the 6th century BCE, emphasizes inner peace, meditation, and the Four Noble Truths.
Jainism, another ancient Indian religion, is based on the principles of non-violence, non-attachment, and non-possession.
Islam, which arrived in India in the 8th century CE, is a monotheistic faith that stresses devotion to Allah.
Christianity, brought to India by St. Thomas during the 1st century CE, has a significant presence in South India.
Sikhism, founded in the 15th century CE, stresses the unity of God and the equality of all individuals.
The religions of India reflect the diverse and rich cultural heritage of the country and have contributed to shaping its social and political fabric over the centuries.
Dress Recommendations
When it comes to dressing for your 15-day itinerary of India, dressing appropriately is important. Although there isn't a strict dress code, it's important to dress modestly to respect the local culture and customs. It's recommended to cover your shoulders, chest, and legs, especially when visiting religious sites. Women are also advised to wear clothing that covers their heads when entering temples and mosques. It's also a good idea to bring comfortable and breathable clothing for the warm climate. By dressing modestly, you will not only show respect for the culture but also feel more comfortable during your travels in India.
Traveling to India

India is a wonderful place to visit. It is full of diverse cuisine, beautiful landscapes, historic sights and so much more. For those looking for an adventurous experience on their next holiday, heading to India can provide some of the most exciting and unique moments. It offers travelers the chance to immerse themselves in a completely different culture and experience life in a way they've never imagined before. When visiting India there is something for everyone – from delicious traditional food to historical temples – the possibilities are endless!
Whether you're looking for an adventure or simply want to explore a new area of the world, traveling to India can give you an unforgettable journey that will stay with you forever. So if you're ready to explore beyond what could ever be imagined and discover where your passion for travel truly lies, then take a journey somewhere exotic like India and have some unforgettable travel experiences.
FAQs about Traveling to India
India, a diverse and culturally rich country, offers countless attractions for travelers. Planning the perfect 15-day itinerary for India can be a daunting task, especially for first-time visitors. This article addresses some frequently asked questions to help you make the most of your Indian adventure.
What is the best time to visit India?
The best time to visit India largely depends on the regions you wish to explore. However, the months between October and March are generally considered the most favorable time to travel, as the weather is cooler and drier. Monsoon season, which occurs from June to September, should be avoided due to heavy rainfall and potential flooding.
How long should I plan to spend in India?
The length of your stay in India depends on the regions you want to visit and the depth of your exploration. For first-time visitors, a 15-day itinerary is recommended to cover some of the most iconic destinations, including Delhi, Agra, Jaipur, Udaipur, Jodhpur, Varanasi, and Mumbai.
Is it safe to travel to India?
India is generally considered a safe destination for travelers, but as with any country, exercising caution and common sense is essential. Be aware of your surroundings, avoid traveling alone at night, and keep your belongings secure. Additionally, it's important to respect local customs and dress modestly, especially on religious sites.
What best way to travel within India?
India offers various transportation options, including trains, buses, and domestic flights. The Indian Railways network is extensive and budget-friendly, while domestic flights can save you time on long journeys. For shorter distances or city travel, taxis, auto-rickshaws, and rideshare apps are convenient options.
What type of accommodation is available in India?
India has a wide range of accommodation options to suit every budget and preference. From budget guesthouses and hostels to luxury hotels and heritage properties, travelers can choose accommodations based on their needs and budget.
What vaccinations are recommended for traveling to India?
Before traveling to India, consult your healthcare provider to ensure you're up to date on routine vaccinations. Recommended vaccinations for India may include Hepatitis A, Hepatitis B, Typhoid, Cholera, Japanese Encephalitis, Rabies, and Yellow Fever (only if coming from a Yellow Fever endemic country). Additionally, ensure you have an up-to-date tetanus shot. Consult the Dept of Health & Human Services for more information.
Do I need a visa to visit India?
Most foreign nationals require a visa to enter India. Many countries are eligible for an e-Visa, which can be applied online. The e-Visa is available in three categories: e-Tourist Visa, e-Business Visa, and e-Medical Visa. Check the Indian government's official e-Visa website for more information on eligibility and application procedures. Find out more at the Embassy of India.
What should I pack for my trip to India?
When traveling to India, consider packing lightweight clothing and layered items for fluctuating temperatures. It is also important to pack comfortable shoes suitable for walking. Sun protection such as sunglasses, hats, and sunscreen are essential when touring during the day. Additionally, don't forget your camera and charger – India is a photographer's paradise! Finally, make sure to bring your passport and paperwork related to your visa.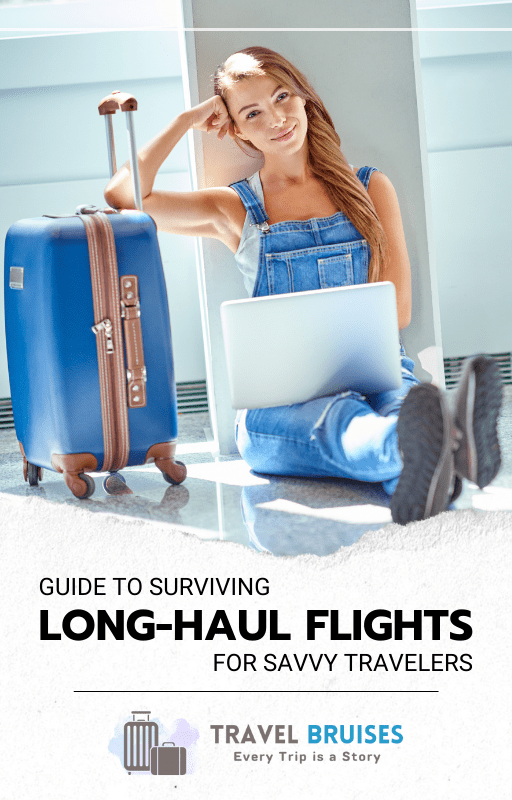 Discover the Ultimate "Surviving a Long-Haul Flight Guide"
Whether you're jetting off to a distant paradise, exploring a vibrant city, or visiting loved ones on the other side of the world, we know that surviving a long-haul flight is no small feat. But fear not, wanderlust seeker, because we have the ultimate solution to make your journey an absolute breeze!
Don't let a long-haul flight be a roadblock to your travel dreams. With our "Surviving Long-Haul Flight Guide," you'll be equipped with the wisdom and knowledge to conquer the skies and make every moment of your journey count.
Download your copy of "Surviving a Long-Haul Flight Guide" and unlock the secrets to conquering those marathon flights like a pro!