Table of Contents
Have you ever found yourself wondering what the most popular foods are around the world? From German bratwursts to Indian rogan josh, there's a dizzying range of dishes out there that have united diverse cultures and yet still keep their unique character. But just which ones are the most beloved?
International Cuisine from Around the World
When it comes to top dishes from around the world, there are endless options to choose from. These are just a few of the top dishes from around the world – each one unique in its own way and worth trying at least once in your lifetime.
So roll up your sleeves, grab an apron, and get ready to take your taste buds on a trip around the world!
Japanese Cuisine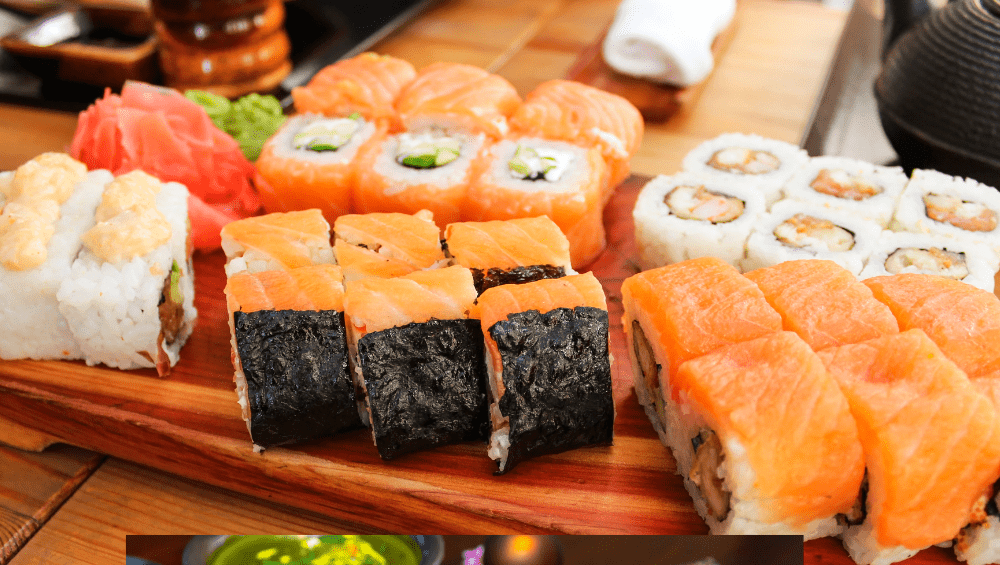 Sushi
Sushi is an iconic Japanese dish that's recognizable around the world. It can be made with various ingredients, ranging from raw fish to vegetables. While it may look intimidating at first, sushi can be relatively easy to make – simply prepare your ingredients and wrap them up with a sheet of seaweed. It takes time to perfect the technique though, so painting by numbers doesn't really work here. Each bite has its own unique taste experience which differs based on the type of ingredients you choose.
Takoyaki
Resembling mini fried dough balls, these small round dumplings boast a savory filling cooked between two layers of golden batter. A specialty to the Osaka region, takoyaki stands out in Japan's wide selection of delectable international cuisine options as something completely unique and amazing. Takoyaki was originally inspired by food sold on prominent river banks during WWII but has since evolved into a popular street snack loved worldwide. While the traditional takoyaki recipe includes octopus marinated in a proteinaceous sauce inside the batter, different regions across Japan serve up their own edition to please hungry locals. Whether it be with pork, squid, or shrimp infused with flavors such as teriyaki or sweet chili mayo, takoyaki is an absolute masterpiece of inventive international cuisine!
Ramen
Japan is known around the world for one of its most renowned dishes: ramen. This modern creation first came to Japan after World War II, when Japanese people adopted Chinese wheat noodles. It was soon adapted to Japanese palates, with local chefs adding a variety of toppings like meat, vegetables, eggs, and seaweed. Nowadays, Japan is filled with countless shops serving up piping, hot bowls of this beloved noodle dish. Whether it's fruity Tokyo-style miso ramen or the distinctive tonkatsu ramen from Nagahama in Fukuoka prefecture, the beauty of ramen lies in its versatility.
Indian Cuisine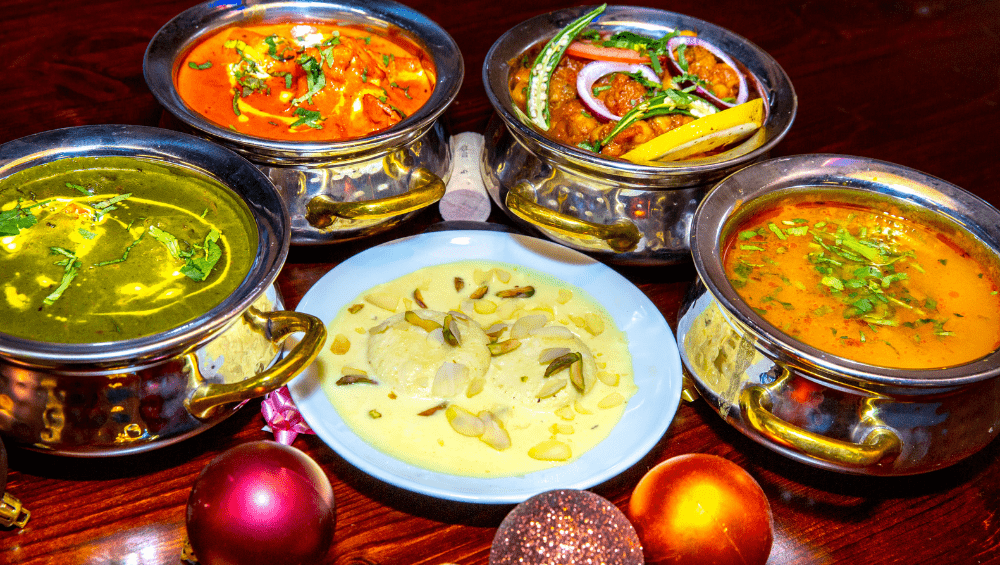 Curry
Curry is more than just a lip-smacking Mediterranean, Indian, and Southeast Asian taste. It's an utterly irresistible alternated yellow-comely aromatic flavorful spice that makes any dish complete and satisfying. A perfect blend of turmeric, ginger, cumin, and dried chili flavors appears when eating curry with unexpected combinations. Its signature hue enlightens every platter and beckons your favorite dish onto the table.
Biryani
Biryani. Just the name of the dish conjures positive reactions from even the most detracting critic. Spices blended together like different harmonies in a choir to make something perfect, a bona fide melody of flavors that is as recognized and loved in India as it has become around the world. It's all encapsulated in one word – Biryani. The aroma of saffron, cardamom, and cloves creates a symphony of fragrances more committed to memory than anything, just one spoonful eliciting immense pleasure. The concoction of rice, meat, and vegetables adds dimension to the taste while its visual presentation is unfailingly striking.
Tandoori Chicken
Tandoori Chicken is an iconic Indian dish that's gained global success in recent years. With tender, juicy chicken cooked in a clay oven and coated with flavorful marinade, it's no wonder why the taste is adored around the world. It all starts with prepping and marinating the chicken in a mix of yogurt, spices, and herbs such as garam masala, turmeric, and cumin. This combination gives the chicken its distinct red hue. After that comes the real magic; cooking over high heat for just a few minutes to get perfectly crispy edges that are tantalizingly smoky. Finally, the served chicken is usually accompanied by cilantro, diced onions, or lime wedges.
Vietnamese Cuisine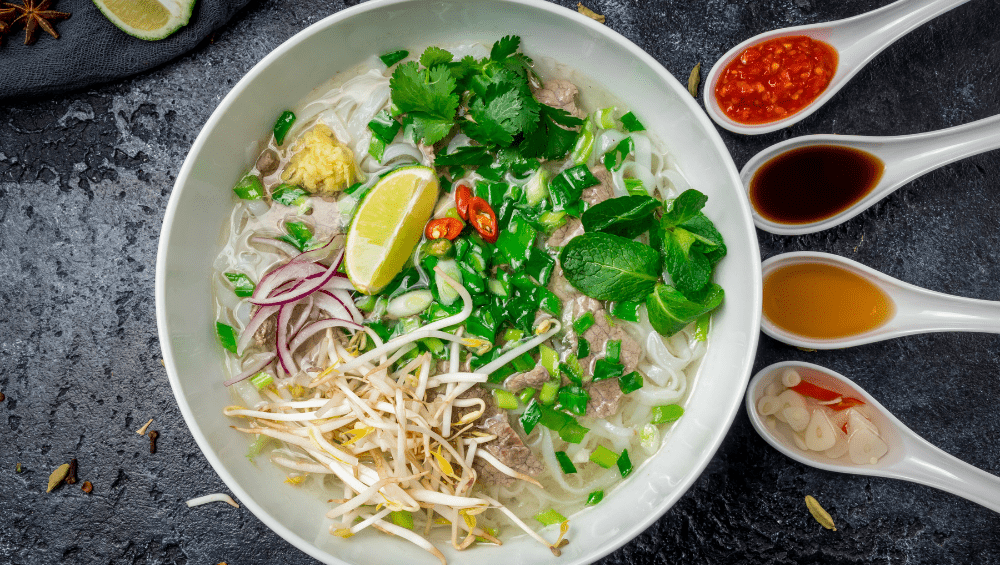 Pho
Pho is a broth-based noodle soup that has been passed down generations, perfected through time and locale to become an essential part of countless kitchens and pantries of the world. The leafy depths of the pho are an amalgamation of tantalizing spices, hearty legumes, sheep tails, chilies, and ripe onion strips, producing one hot and savory medley complemented with a dollop of hoisin and freshly minced coriander. Every spoonful is chock full of sublime flavors and textures which Vietnamese cooks have aimed to achieve over centuries.
Banh Xeo
Banh Xeo is a savory treat originating in Vietnam. With a crispy and crinkly texture, this traditional dish is sure to tantalize your taste buds. Made with rice flour and turmeric, the yellow crepes are filled with beef, pork, shrimp, onions, and mung beans before they're folded and served. Add a few herbs such as basil leaves or cilantro and let the delicious smells waft from this fully cooked meal! Banh Xeo may need little seasoning apart from the occasional bit of chili, depending on your desired spice level. Wash it all down with a soy sauce dipping sauce and your dining experience won't be surpassed!
Thailand Cuisine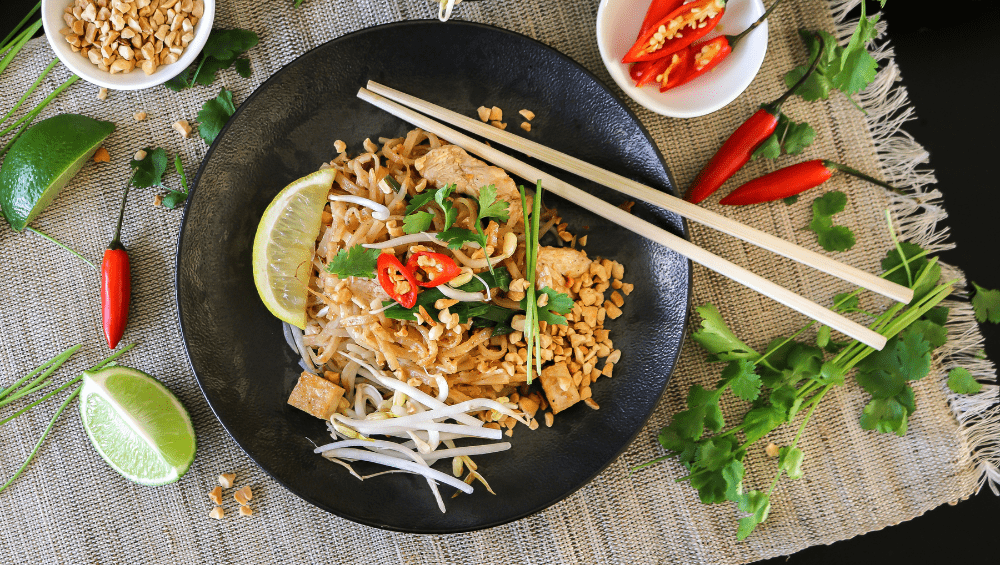 Pad Thai
Pad Thai – one of the most popular dishes from the lands of Thailand! It's a delicious combination of tofu, onions, sugar, lime juice, and noodles mixed with exotic spices and herbs that culminate into a dish so fragrant it leaves you wanting more and more. Another comforting yet complex fusion cuisine, Pad Thai presents harmony between peppery and sour flavors that balance each bite with its nutty texture that lingers in your mouth. The bright colors add to the special visual presentation which inspires many home chefs all across the world to incorporate vegetables too while cooking.
Tom Yam Goong
Tom Yam Goong is a famous dish in Thailand. Many around the world know it for its strong and vibrant flavor, stemming from its unique combination of herbs and spices. Its combination would include lemongrass, tamarind paste, red chilies, shrimp paste, garlic, and galangal. All perfectly balanced to bring an invigorating kick tied up in a bowl of hot broth. With an enticing appearance, this dish is a frequent sight at any celebration or formal dinner.
Mexican Cuisine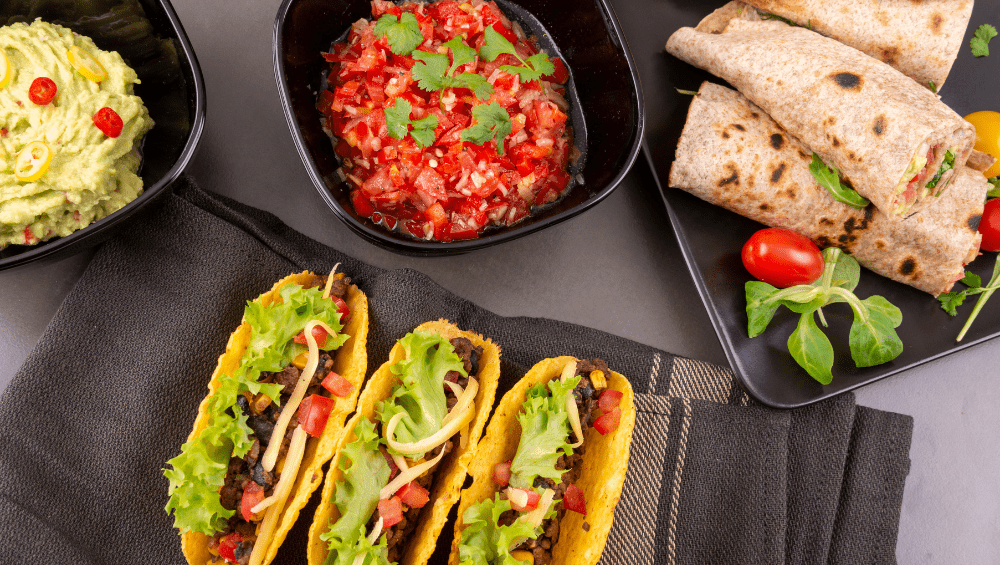 Tacos
Whether they are hard-shell or soft, tacos have a unique flavor that makes your mouth water in anticipation. However, it's the crunchy texture of a well-cooked hard-shell taco that really hits the spot! A wide variety of ingredients can be used in tacos such as seasoned meats and veggies, depending upon the type of taco you wish to prepare. No matter what shape or form tacos come in, one thing is certain — everyone loves tacos!
Burrito
A warm flavorful tortilla filled with protein, greens, and perhaps a few surprises; what's not to love about this scrumptious wrap packed full of healthiness? Choose your favorite topping for the ultimate customization experience. Whether you've been treating yourself for a long week of work or just need something tasty on a lazy day, there is nothing quite like enjoying the dynamic combination of flavors in your very own homemade burrito.
Turkish Cuisine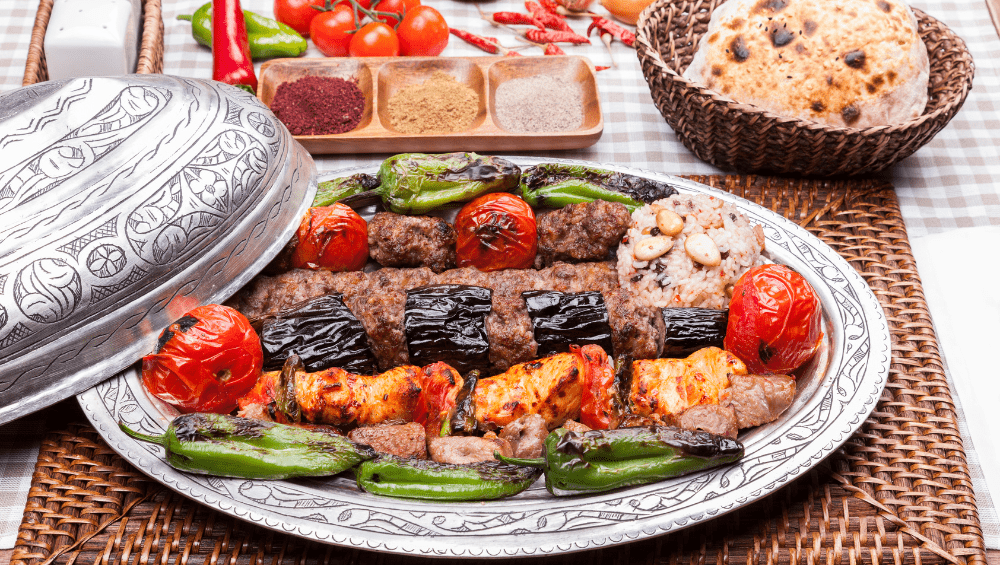 Doner Kebab
A traditional meal is unique to the cultures of the western Anatolian region of Turkey, even back in the 19th century. Of Mediterranean and Middle Eastern influence, boasting spices like cumin and its signature pairing with soft flatbread on spit roasting for hours at a time. Tenderly prepared and served with fixings like onions and cabbage, widely considered a food symbol to worldly travelers and citizens alike.
Mantı
Turkish international cuisine; includes dolma, kebabs, and simit. Nonetheless, Mantı is quickly becoming to be considered a delicacy. Originating in Central Anatolia, this delight has caught on quickly right throughout the country–not to mention fast gaining international admiration. Composed of doughy fingers filled with ground beef and spices, topped with flavourful garlic yogurt sauce, Mantı is a succulent explosion of tastes. Not only visually pleasing but gastronomically delicious these hearty treats have evolved from being home-style dishes to becoming hip restaurants staples in credit goes to its fantastic fusion of flavors.
Menemen
Menemen is a tantalizing Turkish treat that's sure to tantalize taste buds. A breakfast favorite, it's often referred to as the classic Turkish omelet. This hearty dish packs all the flavor and texture one could hope for in a morning meal. Starting with chopped peppers, tomatoes, and onions sizzling together in some butter over the stovetop all working harmoniously towards its delectable outcome. The eggs are then tossed right in and given time to tenderly scramble together before reaching the plate and dunked into indulgent Tutmanek, a tangy tomato mix that takes it over the top.
Spanish Cuisine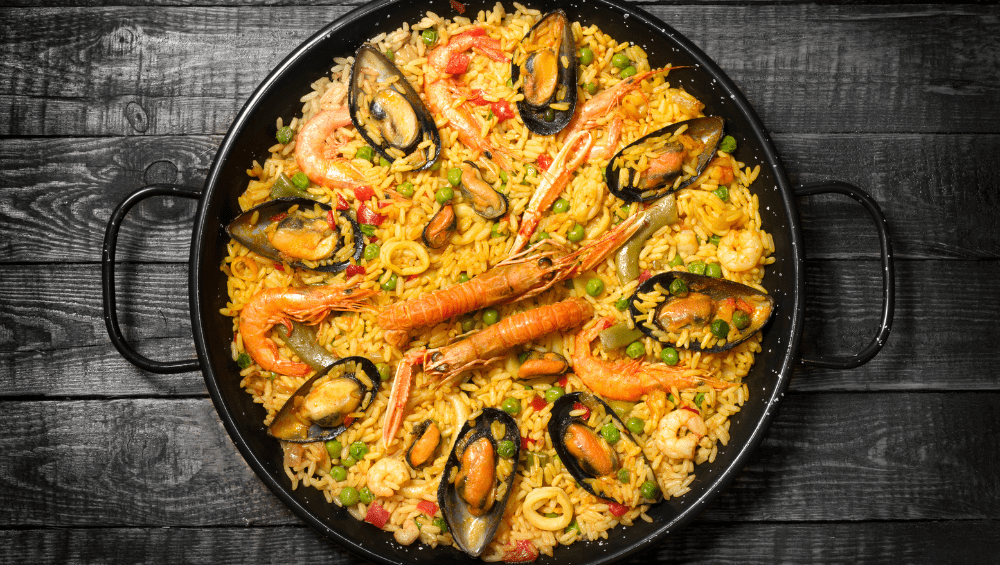 Paella
This traditional dish from the Valencia region of Spain is known for its beautiful colors, flavors, and fragrant aroma. Pan-fried rice, sausage, and vegetables are skillfully combined with chicken, mussels, and/or shrimp to create an incredible meal that is fit for a king. Whether using long grain or bomba rice, the socarrat achieved at the bottom of the paellera only adds aroma as well as texture to the dish. Share your love of paella with family and friends this season—celebrate any occasion with this vibrant staple of Spanish international cuisine.
Gazpacho
Gazpacho, a Spanish soup made with fresh tomatoes and other ingredients, is a type of international cuisine that's as old as time. This flavorful and tart soup has been delighting palates in Spain for centuries — its tomato-infused flavor makes it an ideal summertime appetite pleaser. Its name derives from the Spanish phrase "caspa o caldo" which literally translates to "soaked bread", due to the use of stale bread blended into the rich mixture. Gazpacho can be served chilled or at room temperature, making it especially appealing for those hot days when you don't feel like eating a hot meal.
Hungarian Cuisine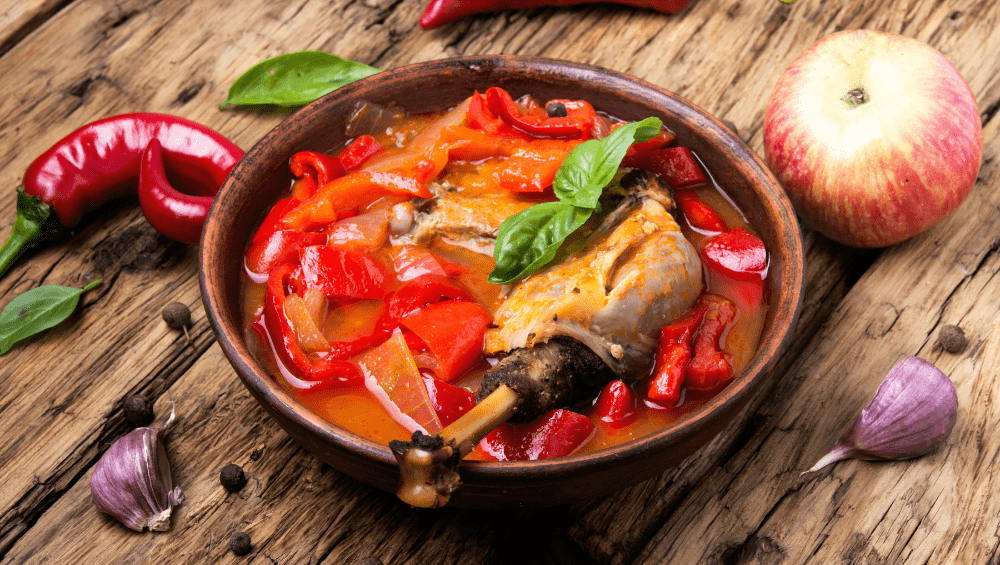 Goulash
Goulash is a classic dish with a flavor as comforting as it is distinctive. Traditionally originating in East European countries, goulash has become a favorite of food lovers all over the world. The base ingredients of the hearty soup consist of cubed stewing beef, paprika, and onions, which together result in an unmatched savory combination. When it comes to making goulash, slowly simmering the ingredients brings about intense complex flavors for one to savor. Additions such as potatoes and carrots can bring a unique layer of scrumptiousness to the traditional base.
Chicken Paprikash
Have you ever heard of the surprisingly tasty dish, Chicken Paprikash? This cultural delight has its roots in Hungary. Delightfully simple yet complex at the same time, the flavors dance in your mouth leading to flavor boldly unlike any other European delicacy. Hungarian Chicken Paprikash uses cream to produce a rich creamy gravy broth that accompanies its custom paprika-infused chicken chunks. Enjoyed by both adults and children alike, this delightful culturally interwoven dish will be sure to bring much joy to every household.
Chinese Cuisine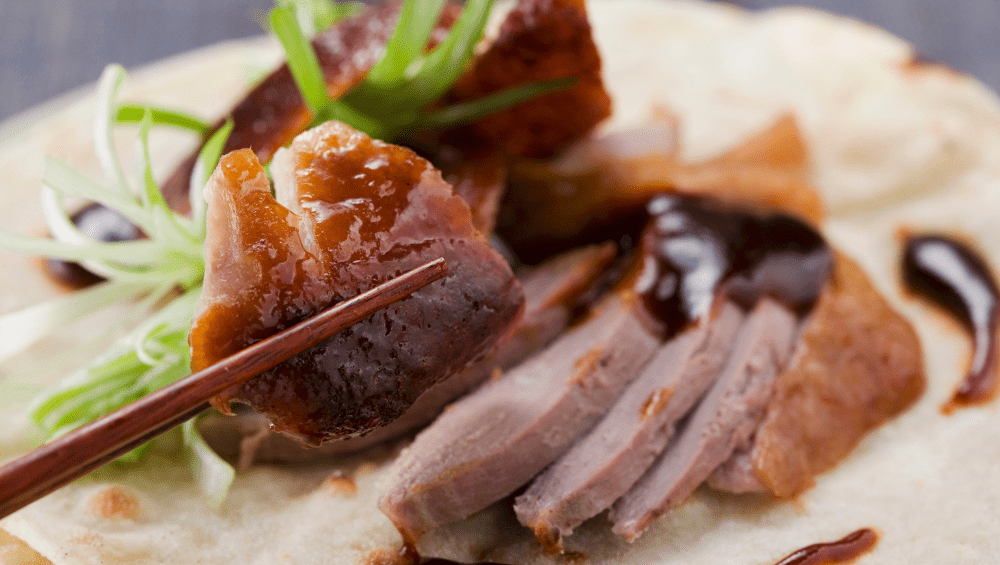 Peking Duck
Chow Mein: an international cuisine that could make your mouth water. But what exactly is in it? It can be hard to tell what's hidden beneath the mound of glossy noodles and vegetables. There are many traditional ingredients like shredded cabbage, thinly sliced carrots, mushrooms, and other vegetables. However, some chefs like to put a unique twist on their Chow Mein dishes by adding meat or using unexpected ingredients such as parsley or egg yolks for enrichment. Every great meal deserves a special combination of herbs and spices, which adds flavor and finesse to this beloved dish.
Chow Mein
Chow Mein is a classic dish that can be found in Chinese restaurants around the world. It is popular for its savory noodles and flavorful combination of ingredients. The basic components of chow mein include noodles, stir fry vegetables, and typically a protein such as chicken, beef, or pork. Those who have had the chow mein say it has a distinctive savory taste and a perfect balance of vegetables and meat or seafood. By mastering homemade chow mein using fresh ingredients you can ensure your cooking is not only tasty but healthier than pre-packaged versions.
American Cuisine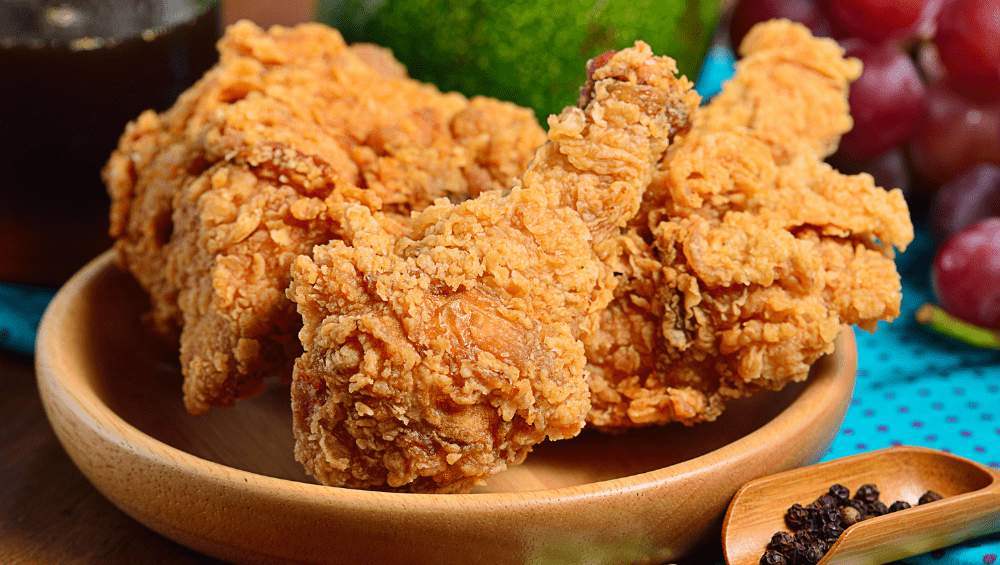 Fried Chicken
Fried chicken is a popular American dish that typically consists of chicken pieces that are battered and deep-fried. It is often served with coleslaw, mashed potatoes, and biscuits. There really isn't an end to what goes into these beloved plates. Let's journey with tastes around the world, comparing exotic spices and delectable seasonings – from mustardy notes down South to pastes of sun-ripened spring onions near Kirkland. When it comes to fried chicken dishes, who knows how history and taste are entwined all around us!
Mac & Cheese
Get ready for a soulful, cheesy treat. Southern Mac & Cheese is creamy and decadent, the perfect combination of cheese and pasta to satisfy that comfort-food craving. It's from the south, so it's got the authentic smoky flavor you can't find anywhere else. Not your typical mac and cheese, ready to bring something special to your family table. Go ahead; indulge in some down-home decadence! From creamy sauce lightly coated over noodles to a comforting orange hue bursting with bold flavors and tastes, there's nothing quite like Southern Mac & Cheese. Crafted with quality ingredients bursting with signature southern spice, this mac and cheese dish offers a warm hug in every bite.
Korean Cuisine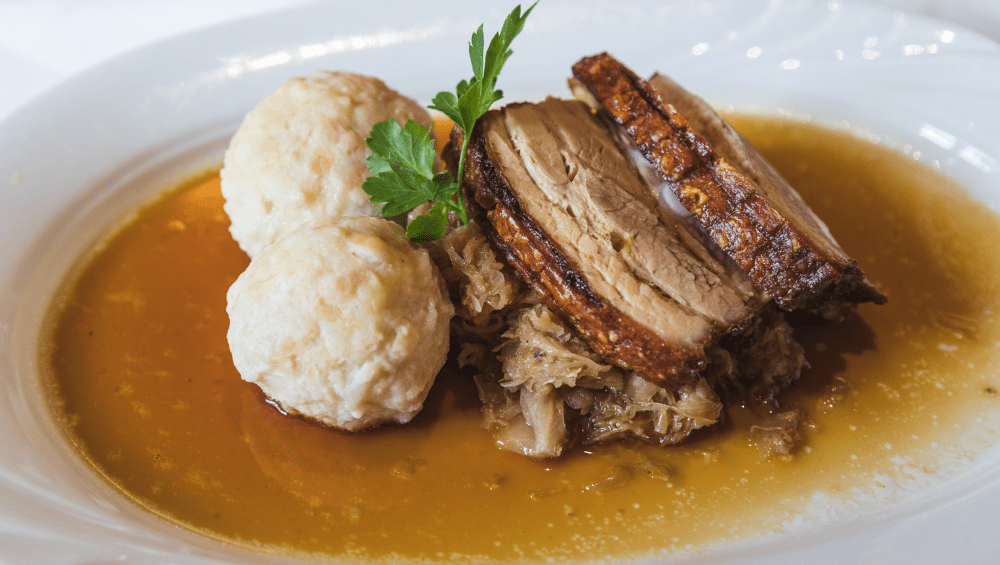 Kimchi
Kimchi is a traditional Korean delicacy – it combines a balance of shapes, flavors, and colors in a fermented cabbage dish. The savory and nitrogen-rich vegetable preparation is best when made at home using various seasonings like chili powder, garlic, and salt, among other spices. It has also become popular for its health benefits due to its high alkalinity, which can help aid digestion. When Korea's summer temperatures provide the perfect climate for fermentation along with preserved brine from the long winter months, kimchi crafters are able to make an especially flavorful recipe that has become prized worldwide. Every year around late spring or early summer billions of heads of cabbage along with special salted crustacean stocks come together to produce this mouthwatering treat.
Bibimbap
Bibimbap is a flavorful and delicious dish that hails from Korea. Originating centuries ago, bibimbap consists of several components that come together to create a tantalizing mix of texture, flavor, and even visual appeal. Traditionally, it contains a variety of cooked vegetables such as spinach, mushroom, and bean sprouts, served on top of steamed white rice and topped with a fried egg to add an extra richness driven by its runny yolk. To add more dimension to this already interesting dish, modern variations add strips of spicy marinated beef. Lastly, bibimbap is completed with gochujang sauce which innately provides its signature depth owing to its punchy sweet, and salty profile blend.
Italian Cuisine
Gnocchi
Gnocchi is an Italian dish that typically consists of small dumplings made from potatoes, flour, and eggs. It is often served with tomato sauce or pesto. Gnocchi is an internationally beloved recipe that originates from a wide variety of cultures. This savory culinary dish can be found in classic Italian international cuisine as well as in modern gourmet restaurants worldwide. Cheese and other aromatics can also make appearances producing flavor variants depending on the region or recipe bias of the home cook expertly creating this classic pasta dish.
Pizza
Pizza. Mentioning the word is enough to spark cravings from the deepest depths of taste buds. It evokes feelings of excitement, adventure, and pure satisfaction at the thought of biting into a delicious slice. Its appeal transcends age, about two-thirds of Americans have at least one slice every month alone. All sorts of variations make this food beloved around the world, ranging in flavors and toppings carefully crafted to compliment each traditional pizza-based dish. From pepperoni to veggie options and an endless assortment of sauce variations, it's truly an unbeatable culinary experience.
Peruvian Cuisine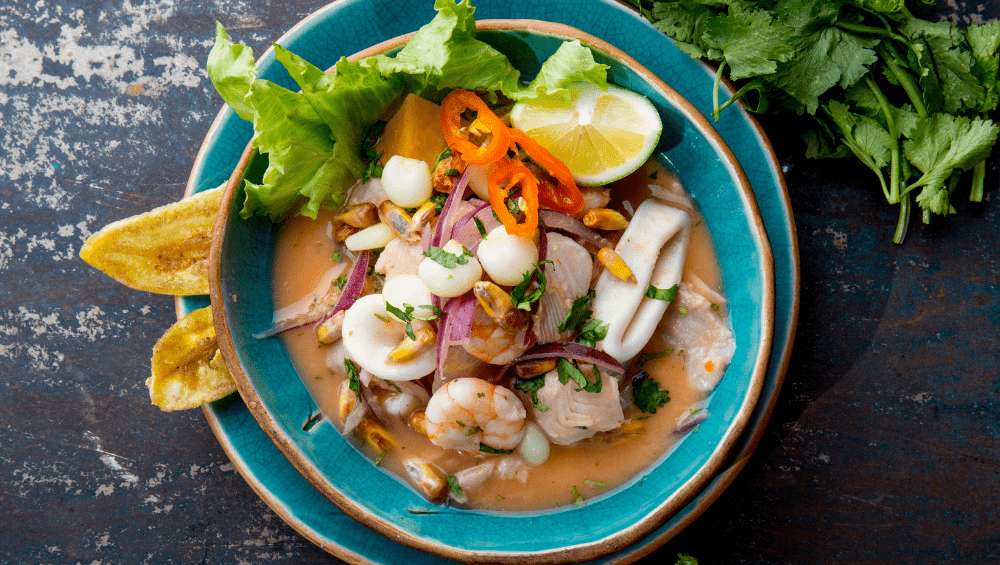 Ceviche
Ceviche is a Peruvian dish that typically consists of fresh raw fish marinated in lime juice and mixed with onions, tomatoes, cilantro, chili pepper, and other spices. It is often served with sweet potato or plantain chips. Ceviche is a delicious, refreshing dish! A typical ceviche dish contains freshly caught fish or seafood that has been macerated in citrus juices. This acid marinade helps to 'cook' the fish while adding bright citrusy flavors. Chilli peppers and spices can also be added to create zesty flavors and a slight kick of heat. Anise, coriander, and even apples are some additional ingredients commonly found in ceviche dishes around the world. Utilizing locally sourced seafood, many chefs customize their recipes to suit the palette and available produce in their region.
Lomo Saltado
Lomo Saltado is a popular Peruvian dish originating from Lima, Peru. The traditional recipe includes marinated sirloin, peppers, and tomatoes stir-fried together in a wok. It is often served with french fries and sometimes might include plantain, onions, or white rice too. It's particularly flavorful thanks to the sauces used which involve a combination of Pisco brandy mixed with soy sauce, garlic, and vinegar for added depth. Lomo Saltado also applies Chinese cooking techniques since when it first emerged, Chao Zhou immigrants were what was left in Peru's coastal regions by the middle of the 19th century.
English Cuisine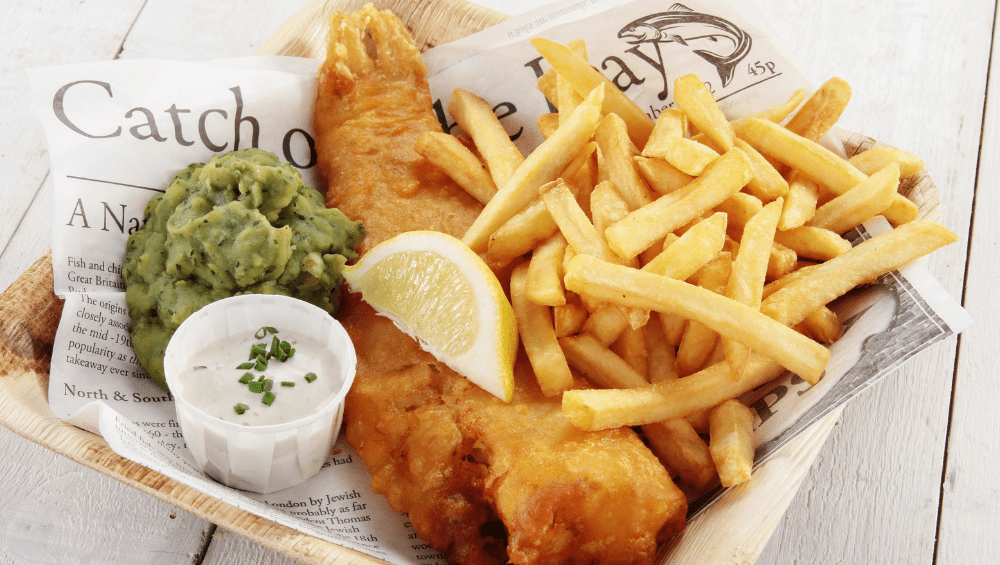 Fish & Chips
Fish & Chips is one of the great mainstays of British international cuisine. This traditional entree dates right back to 18th century England, and it continues to be immensely popular in pubs throughout the United Kingdom today. It typically consists of a battered fish fillet accompanied by accompanying chips or french fries. Generally, the fish is cod, haddock, or another white, flaky fish that's enjoyed all around Britain. Fish & Chips can be made from scratch at home, but it's also readily available from fresh fish shops and as street food brought directly to you from aptly designed vans scattered all across cities and towns of Great Britain. Many connoisseurs consider Fish & Chips to be one of the most delicious traditional dishes out there, created with perfectly fried pieces of savory fish together with fried potatoes and served with a hot pot of tartar sauce.
Steak & Kidney Pie
Steak and kidney pie is a traditional British dish that typically consists of diced steak, lamb's kidneys, and mushrooms cooked in a pastry crust. It is often served with mashed potatoes or chips. The classic Steak & Kidney Pie hails from the United Kingdom. Every ingredient used is carefully chosen for its delectable flavor and ability to perfectly complement each other when cooked. The steak cubes embody a tender, succulent aspect that pairs nicely with the playfully tart kidney pieces. An envelope of buttery, golden flaky pastry serves as the crust and makes for a mouthwateringly indulgent contrast to the savory filling. Braised in flavorful juices and served bubbling hot, this quintessentially British dish holds a place within many hearts and on plates around Britain.
Greek Cuisine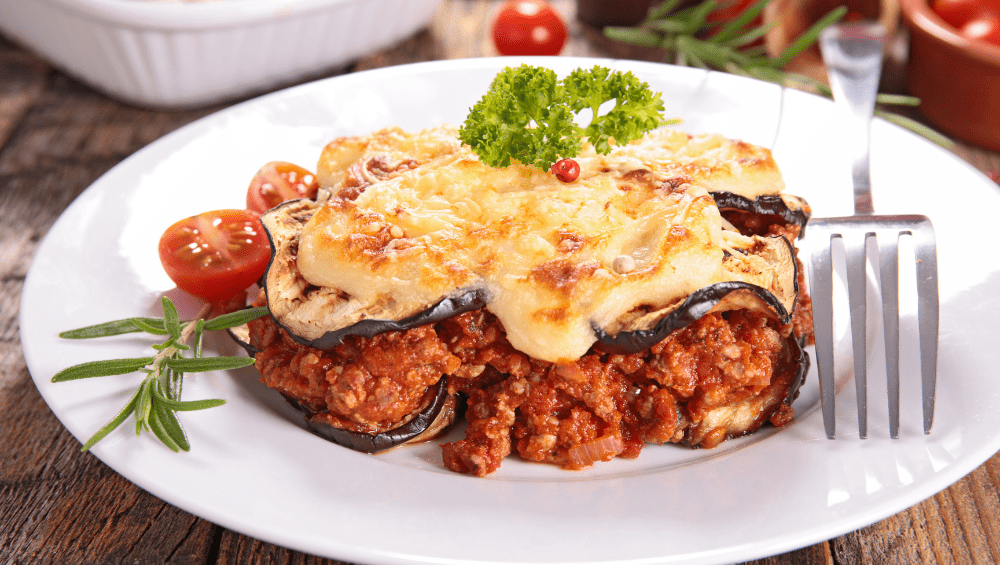 Moussaka
Moussaka is a classic dish of Greek international cuisine. It originated in Greece and is still enjoyed by many today. Known for its unique flavor, Moussaka is made with roasted eggplant, butter or olive oil, onion and garlic, minced beef or lamb, tomatoes, parsley, spices, and bechamel sauce all condensed into one mouth-watering meal. Baked in an oven until golden brown, this delectable dish starts with layers of eggplant slices followed by seasoned meat and mixtures of tomato puree and cheese. This delectably decadent dish perfectly marries the slight bitterness from eggplants with creamy texture and flavors of spices found in the accompanying sauce resulting in a balanced and flavorful fusion along the way.
Papoutsakia
Sometimes referred to as mussel eggplant parcels and mini eggplants, papoutsakia is a traditional Greek dish originating from the Caucasus region. Each savory bite is composed of many layers; delicate, roasted zucchini, creamy seasoned feta cheese, jewelry like basil leaves, and subtly spiced tomato sauce all combine for an unforgettable medley of flavors. The zucchini is often sliced before being poached in hot oil until lightly browned, contributing a pleasant crunch that in combination with the smothered feta cheese and sweeter tomato flavors elevates this through-the-roof comfort food to true culinary coveted status. Papoutsakia's crowning feature? Its name is derived from two verbs that combined mean "I'm shoeing it" referencing how both its erstwhile ingredients—eggplant and stuffed mincemeat shape automatically suggest a miniature show!
Polish Cuisine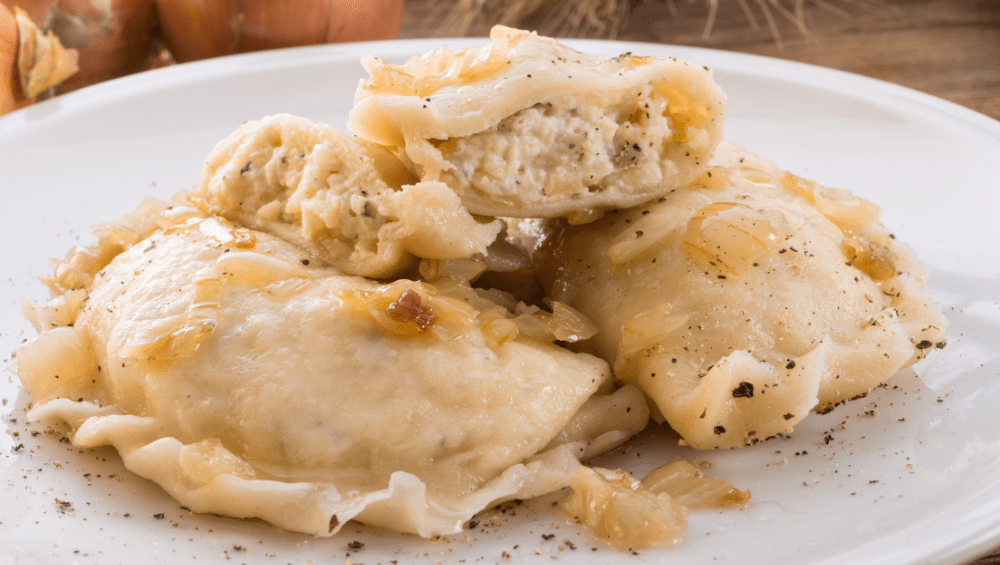 Pierogi
Pierogi hail from Poland, a beautiful and culturally vibrant European country. The traditional dish consists of a package of dough dumplings, stuffed with savory ingredients such as meat, potatoes, cabbage, onions, and cheese. Caramelized onion pierogi or those filled with fresh spicy farmers' cheese are especially popular in both Poland and beyond. While the recipes vary slightly depending on the region, the classic pierogi recipe is thought to date back all the way to 13olden Century Poland—making it one of the most ancient culinary gems yearning to be discovered! Whether served torpedo-shaped or crescent-shaped.
Golabki
Golabki, a beloved Polish dish, is made from warm cabbage leaves that are lightly layered with a combination of ingredients tailored to the chef's taste. Flavorful ground meat is blended with vegetables, like onions and garlic, to create a hearty filling alongside any favorite type of tomato sauce or broth. This tasty combination is then rolled in a bamboo-like shape, and baked until crisp and steaming hot. Generations' old recipes often include additional unique touches like aged smoked bacon or special herbs found within traditional Polish international cuisine. Though not fancy or complicated to prepare — once served Golabki creates a long-lasting impression on the palette.
Indonesian Cuisine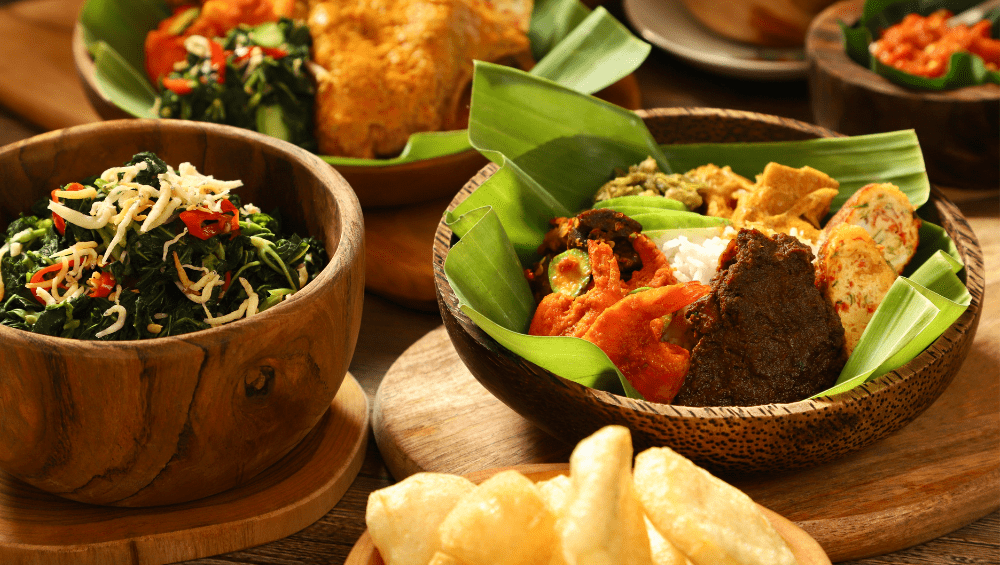 Rendang
Rendang is a dish hailing from Indonesia composed of slowly simmered spices and proteins. Its ingredients often include coconut milk, chili pepper, lemongrass, tamarind, galangal, shallot, garlic, ginger, and a variety of spices depending on the region. Its flavor rises to its peak when stewed for hours on end until the meat has absorbed all of the flavors in the mix. Popularly consumed during festivals or family gatherings, rendang provides variety and complexity to Indonesian international cuisine. Gourmets have praised its intricate combination of both sweet and savory qualities as well as its aromas that leave one's mouth watering for hours after tasting it.
Sweet Martabak
Sweet Martabak is a popular Indonesian snack, loved by both locals and visitors alike. It consists of thick diced cooked flour folded in the form of a savory or sweet omelet, stuffed with beef, vegetables, eggs, sugar, peanuts, and more depending on the local specialties. The savory version usually comes seasoned with different colorful spices while the sweet one is often decorated with nuts placed around its edges as it's being cooked. It can be found sold from small stands throughout Indonesian cities, as well as restaurants that serve it hot and fresh. People call it the "King of snacks", drawing from its delectable range of flavors that appeal to any palate.
Middle Eastern Cuisine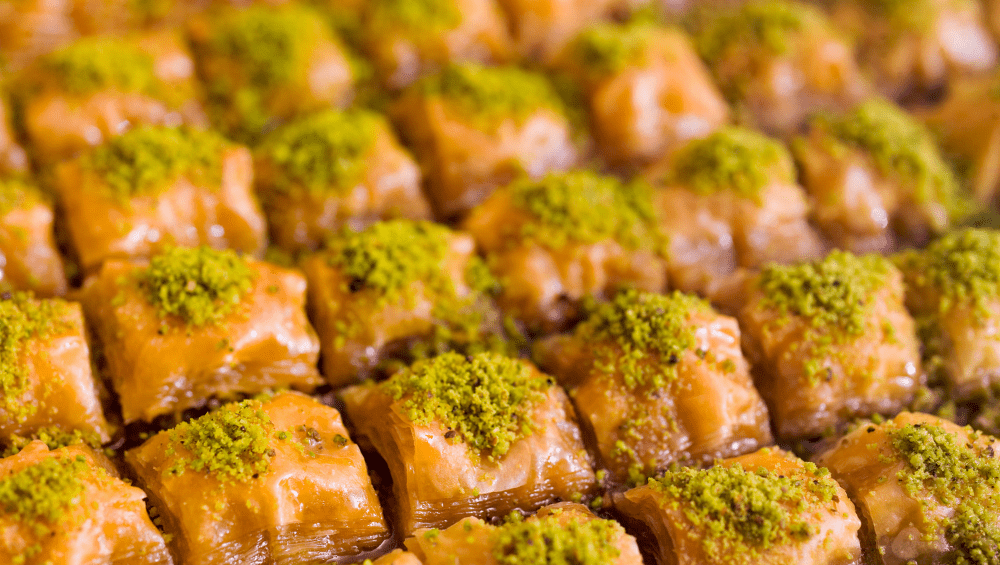 Baklava
Baklava is a Middle Eastern pastry, oozing with layers of honey and walnut. Its crunchy top notes creak beneath your fingers as you break off a delicious slice. Wrapped in thin phyllo dough and crowned with delicate syrup, Baklava becomes an almost sinful pleasure to indulge in. Rumor has it Baklava backdates all the way to Turkey's Ottoman Era. With its presence now making a popular appearance in many cultures around the world, traditional Middle Eastern flavors such as lavender, cardamom, and rose are just some of the prominent ingredients one can expect to discover in each engaging bite.
Falafel
Falafel is a deep-fried food originating from the Middle East and is now incredibly popular all over the world. Crunchy on the outside and warm on the inside, this traditional Middle Eastern staple hits all the right notes for a crowd-pleaser. It's made with chickpeas or fava beans that are then combined with an array of spices such as parsley, garlic, cumin, and coriander before being folded into balls or patties and snuggly tucked away in some incredible charcoal-heated oil. But really it's when you add tahini, hummus, and pickles to falafel sandwiched between some pillowy warm flatbread that creates one unforgettable experience!
Canadian Cuisine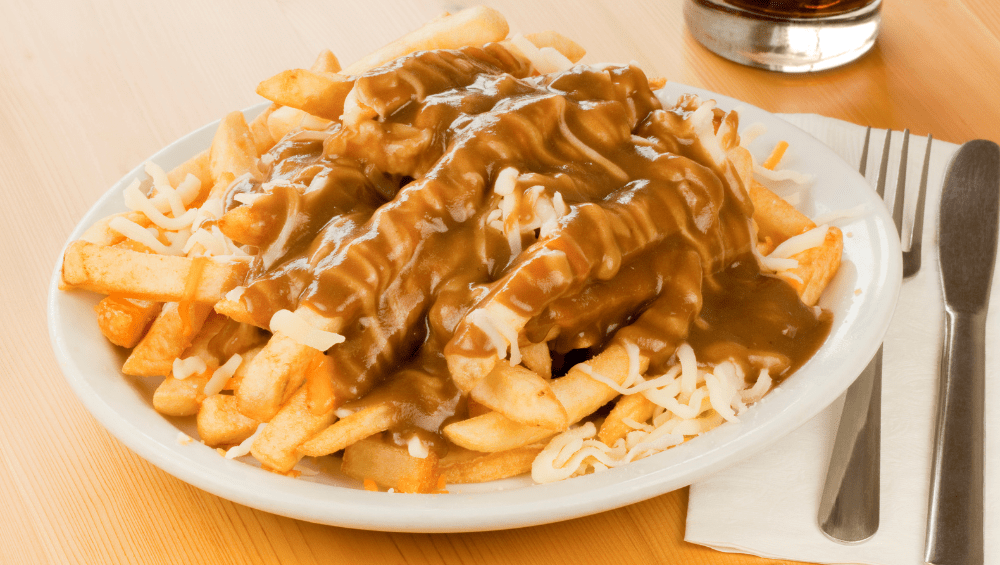 Poutine
Have you ever heard of Poutine? The dish originated in Canada and is a tasty comfort food that contains French fries and cheese curds, all generously smothered in savory gravy. A simple yet truly decadent mix of ingredients. Poutine was invented somewhere in rural Quebec in the 1950s, though just exactly where is still somewhat of a mystery. Potato farmer Fernand Lachance is often credited as its creator, though this is also yet to be fully confirmed. What's for sure, however, is that year by year it has quickly spread across the country.
Butter Tarts
Originating in Canada, butter tarts are a traditional dish with a delectable combination of sweet and tart flavors. The perfect mouthful can be found with creamy Canadian butter, enriched by golden syrup or molasses and encased in delectable pastry. Generous fillings of brown sugar in each tart provide a tangible texture complimented with nuts and raisins that tantalize the taste buds. Whether you're willing to share them or not, these iconic pastries are sure to make any residence feel extra cozy!
German Cuisine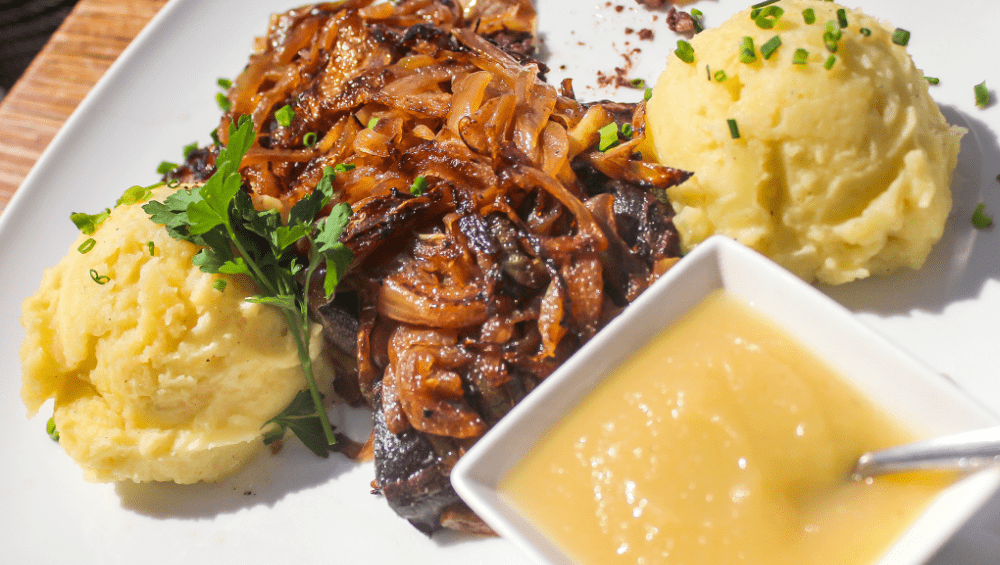 Sauerbraten
Sauerbraten is a traditional German dish that has been around for centuries. Folklore tells tales of this Succulent stew, featuring flavorful marinated slices of roast beef. The longer the meat has to marinate, the more tender and juicy it becomes! The secret is in the marinade made from vinegar, white wine, and herbs such as clove, juniper berry, and black pepper. After hours of simmering over the stove and allowing subtle smoky flavors to take over, Sauerbraten is enriched with sweetness from Nonnenblut or German sugar beet syrup. To make sure each bite is packed with flavor every component is garnished with parsley creating an intense rich discerning aroma.
Schnitzel
Schnitzel is a type of breaded cutlet dish usually made from pork, veal, chicken, or mutton. It is said to have originated in Austria, however, the dish is more closely associated with the culinary culture of Central Europe and Germany. In Germany, schnitzel is most commonly served with potato salad, often with a side of kale or another leafy green. Its preparation typically requires as many steps as other popular German dishes such as bratwurst: tenderizing the meat by pounding with a heavy object, creating seasoned bread crumbs for breading, dusting the cutlets in flour prior to breading, and frying them in hot oil.
Russian Cuisine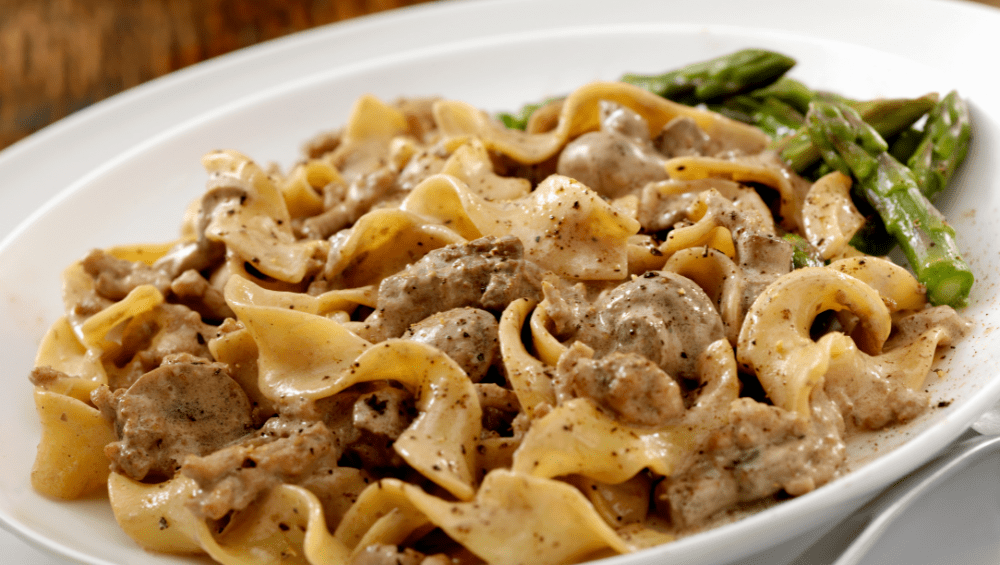 Borscht
Borscht is a soup traditionally loved in Russia. Many households make attempts at perfecting the homemade recipe that calls for key ingredients such as beef or pork, beets, and carrots, to name a few. Many modern twists to the classic soup have been taken over the years and the addition of other ingredients such as potatoes can be included. It's both nutritious and delicious and continues to be a popular dish in many Russian households long after its initial introduction centuries ago. Whether served hot or cold, borscht has become an iconic part of Russian international cuisine.
Stroganoff
Stroganoff, a dish of Russian origin, is a humble meal borne out of a long culinary tradition reaching back centuries. With noodles and fresh mushrooms cooked in savory beef stock, this hearty dish can be found gracing tables in cafeterias and home kitchens across Russia. Beloved by immigrants and locals alike, Stroganoff remains connected with an era of far-flung empire days steeped in royal culture. It quickly grew to become comfort food for generations seeking solace from cold winters and challenging times.
Austrian Cuisine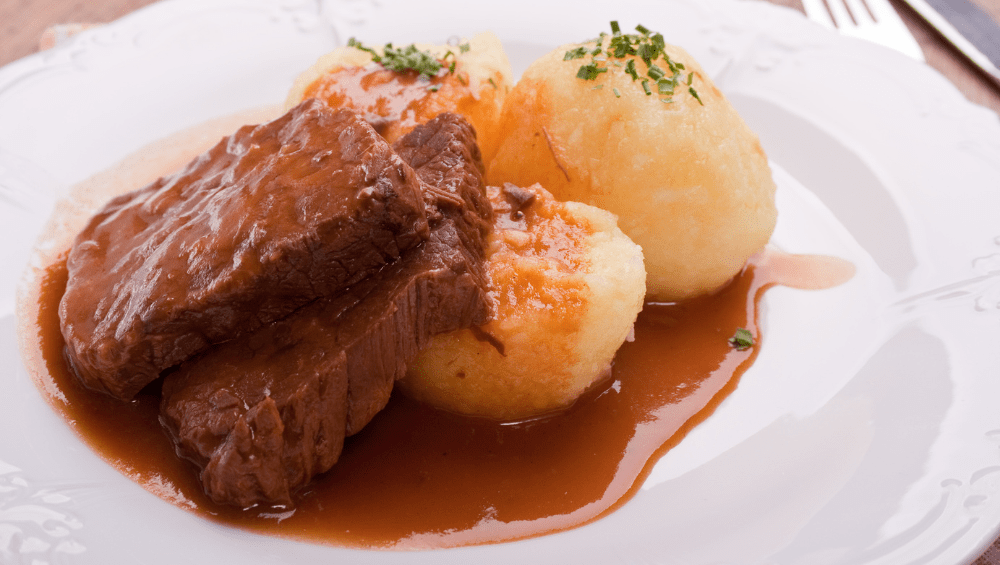 Knödel
Knödel is a traditional Austrian dish. This unique dumpling is made with potatoes, bread, and flour and is boiled in salted water. Rich in flavor, this hearty meal will leave you feeling content and fulfilled. The aromatic herbs: such as marjoram, chives, parsley, and dry spicy add a mesmerizing taste to Knödel. It is usually known to make its appearance during special holidays like Christmas and New Year's which adds to its allure amongst the local families.
Apfelstrudel
Apfelstrudel is a beloved Austrian dessert that involves thinly rolled dough that is wrapped around apples and cinnamon. It gives off an inviting aroma of sugary and tart flavors from the apples, creating waves of comfort that have made it a preferred treatment for many sweet lovers. Every delicate bite especially with cream or a scoop of vanilla ice cream makes for a truly satisfying experience.
Jamaican Cuisine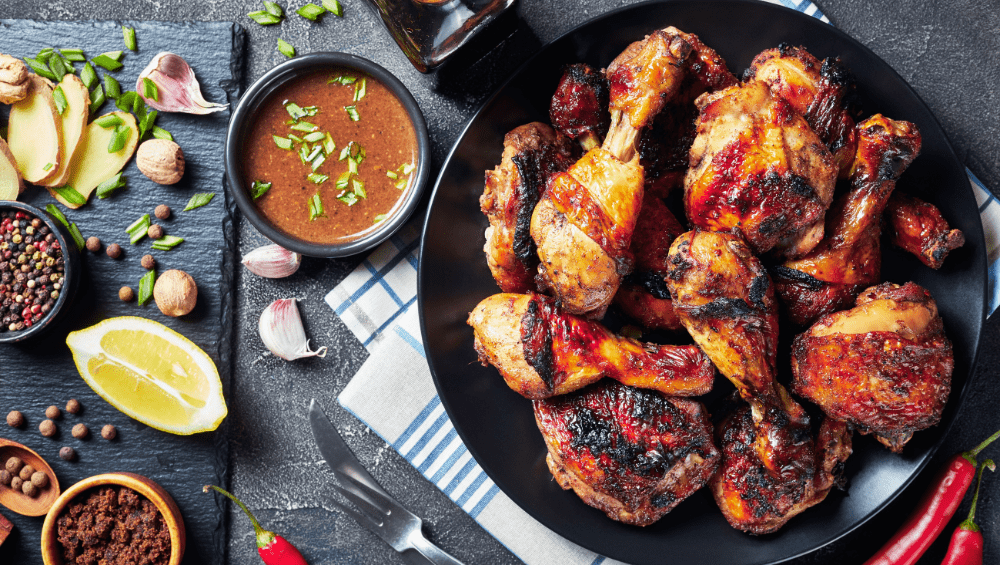 Oxtail Stew
Oxtail Stew is a Jamaican specialty not to be missed. A unique mix of earthy ingredients delivers an exceptional taste that begs to be savored with every spoonful. Carrots, peppers, onions, garlic, and Scotch bonnet chiles simmer away in a spiced tomato broth along with the tender oxtail meat for several hours resulting in a meal that's truly tantalizing to the palate. While many variations of this delicious stew exist, no two concoctions are alike due to each cook adding their own special flair. When it comes to comforting fare from Jamaica, one thing is certain: Oxtail Stew is in a league of its own.
Jerk Chicken
Jerk Chicken was first introduced in Jamaica. This dish originated in the hilly country and quickly gained popularity with the local population. The specialty consists of chicken marinated in a mix of flavorful and spicy ingredients before being charred over open flames or smoked. Jerk Chicken is served with many side dishes like fried plantains, red beans and rice, yams, coco bread, and mango salsa. It is delightfully tangy and packs an exciting flavor for any palate!
Run Dun
When you hear the call to 'Run Dun' echoing through Jamaica, you know it's time for an adventure! Get your comfiest running shoes on and prepare yourself for a thrilling journey. Explore the vivacious beauty that doesn't quit in Jamaica; experience nature in its unadulterated form as streams meet lagoons to form rainbows of color. Not only do these diverse landscapes elicit immense thrill, but they also bring peace like no other – which will be well worth reaching at the end of your run.
Brazilin Cuisine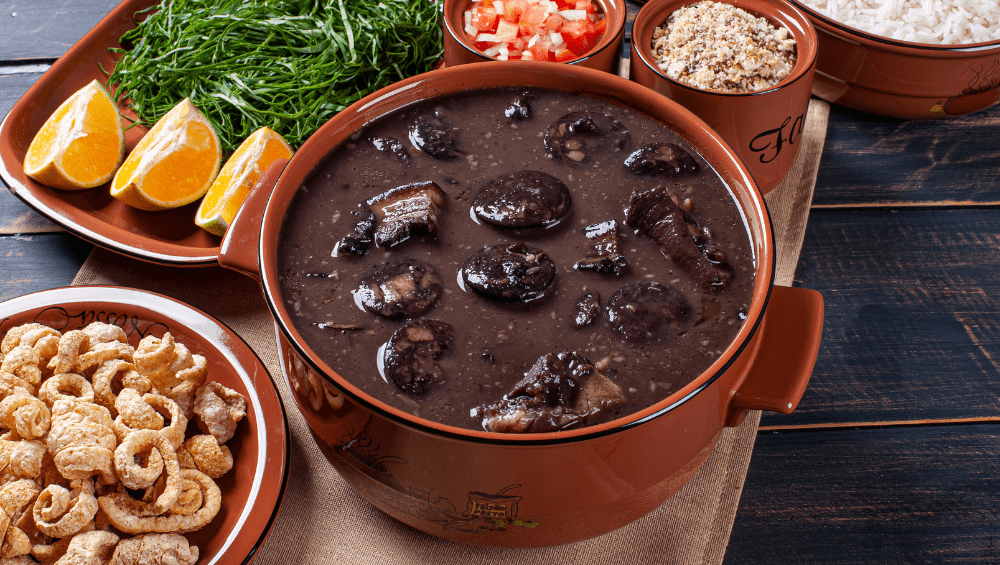 Feijoada
Feijoada is the national dish of Brazil. Located on the east coast of South America, this hearty stew encapsulates the culinary culture of a vibrant country. Its main ingredients include black beans, dried beef or pork, chili peppers, and vegetables such as cassava and carrots. Its flavors are the epitome of native traditions blended with regional ingredients. Prepared slowly within an earthenware pot, it mirrors the way families across generations used to cook together in Brazil. Enhancing its flavor profile and bringing it further authenticity is a tangy orange-based condiment often made fresh at home alongside hot peppers and sun-dried tomato paste. It's tough to visit or live in Brazil without having this nourishing stew!
Farofa
Farofa is a common Brazilian side dish traditionally made from yuca or cassava flour. It is quite tasty, with a satisfying crunchy texture reminiscent of breakfast cereal. Farofa is often served up as an accompaniment to gaucho-style dishes such as being sprinkled over grilled meats and smoked charcuterie like chorizo. The seasoning options are vast and each batch is personalized by its chef who improvises to give it flavor notes ranging from savory to spicy to smoky. This type of dish was originally developed in colonial times in Brazil and it's still regarded today as the quintessential accompaniment for Latin American international cuisine.
Filipino Cuisine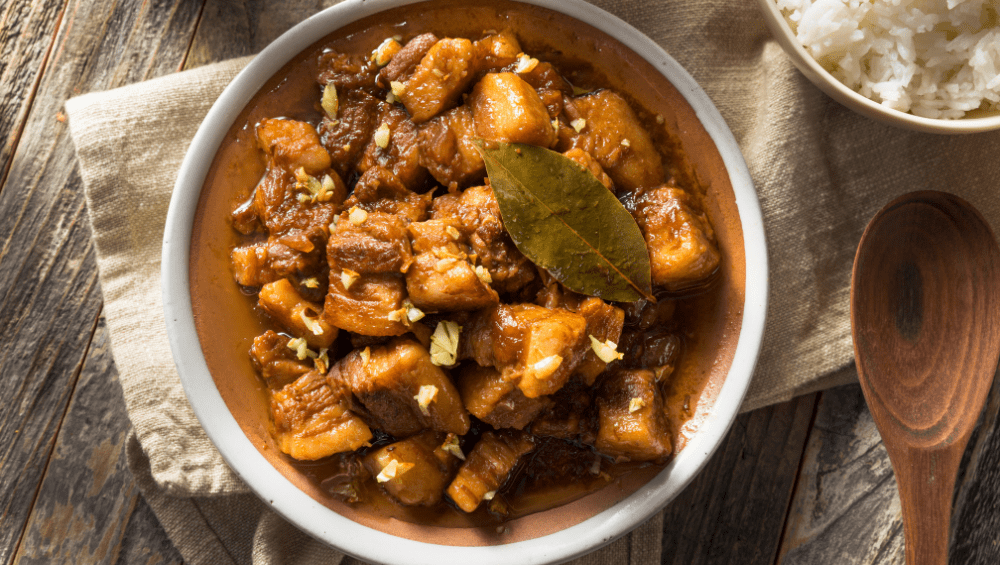 Chicken Adobo
Chicken Adobo is a traditional Filipino dish that dates back to the 16th century. It is undoubtedly one of the most popular dishes in the Philippines and has virtually become a cultural symbol for locals. The name itself – adobo – is Spanish in origin, coming from an old Portuguese word meaning sauce or marinade, indicative of its colonial and culinary influences. This delicious dish consists of chicken simmered and braised in a pungent combination of vinegar, brown sugar, soy sauce, and garlic. These ingredients are the building blocks for making this sinfully tasty dish that complements steamed rice nicely. Preparing nutritious yet tasty adobo is not as hard as one might think; all you need is some basic ingredients, and a good measure of patience waiting for flavorful sauces.
Sinigang
Sinigang is a sour, hot, and savory soup commonly found in the Philippines, is a beloved national dish. The Filipino word Sinigang actually translates to the word "sour" which accurately reflects the flavor profile of this delicious recipe. Beer connoisseurs may note that the addition of fermented banana flowers gives a delightful twist to some versions of Sinigang. Typical meat accompaniments for this dish include beef, pork, and fish however modern variations such as shrimp or even Bangus (Milkfish) can also be found. This broth is usually flavored with guava, tamarind, calamansi (Filipino lime) or truly letting these sour notes sing; unripe green mangoes. Vegetables typical to Filipino creations include tomatoes and radishes yet fruits like pineapple or watermelon can surprise and delight guests in unexpected ways.
French Cuisine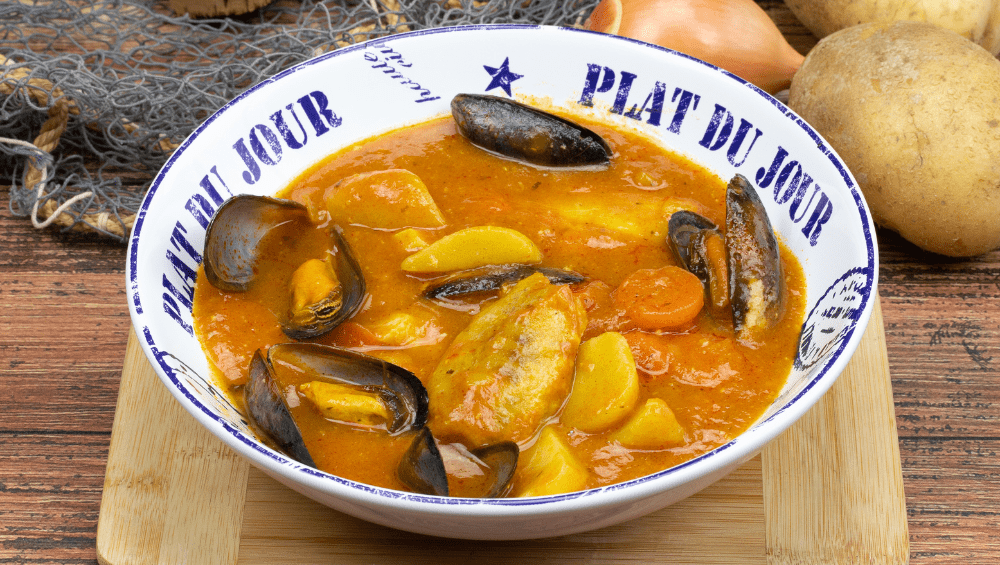 Bouillabaisse
Bouillabaisse, a classic French dish loved by many, originated in the port town of Marseille in France. This seafood stew is mouthwatering and renowned all around the world for its delicious combination of fish, shellfish, potatoes, and aromatic herbs. Once the ingredients are combined with flavorsome garlic and saffron aioli it becomes one of those admired dishes all foodies should experience at least once in their life. In some households, this luscious fishery soup still gets made in honor of special occasions or family gatherings and its finish often includes baguettes filled with melting cheese floating atop the wild-caught concoction.
Crepes
Crepes, which originated in France, are the quintessential delicacy when it comes to French international cuisine. Whether it be savory or sweet, a crepe is often the craving of the person trapped in the court of exacting taste. Most recipes date back centuries but with modern adaptations speed up the perfect preparation in a matter of minutes! One starts with bubbling butter covering a hot griddle; swirl it around and pop your base mix carefully as lacy edges tingle around the circumference. When skillet perfection has been achieved – along with the anticipation of bite-sized bliss – nothing comes close to flipping that delicious delight over with grandma's accuracy hand and sprinkling pixie dust of spice or glimmering snow from powdered sugar. Topped impeccably off with an abundance of berries or heavy fruits laden simply on portobellos for additional texture.
Popular Dishes from Around the Globe
The fantastic flavors and recipes from different cultures around the world are something we should take full advantage of. Learning about the international cuisines of each culture helps us appreciate different parts of the world, broadens our horizons, and fosters a better understanding between countries. So next time you're in the mood for some delicious food, go ahead and challenge your tastebuds – explore dishes from all around the globe! From Vietnamese Bun Cha to French Cassoulet, there's something for everyone and every corner of the world provides unique flavors to tantalize your palette.
Popular International Recipes FAQs
International cuisine is as diverse as it is fascinating, and trying out some of the most popular international recipes is a great way to expand your culinary horizons. Whether you're looking for the complex and spicy flavors of Indian cuisine, the rich and hearty dishes of French cuisine, or the fresh and vibrant flavors of Mexican international cuisine, there's something out there for everyone. With the help of the internet and a well-stocked spice pantry, it's easier than ever to bring world-class cuisine right into your own kitchen.
What are some popular dishes from around the world?
Popular dishes from around the world include Poutine (Canada), Sauerbraten (Germany), Borscht (Russia), Stroganoff (Russia), Schnitzel (Austria), Oxtail Stew (Jamaica), Feijoada (Brazil), Chicken Adobo (Philippines), Bouillabaisse (France), and Crepes (France).
What are some popular dishes from Asia?
Dishes from Asia include Bun Cha (Vietnam), Pho (Vietnam), Sushi (Japan), Peking Duck (China), Curry (India), and Pad Thai (Thailand).
What are some popular dishes from Europe?
Popular foods from Europe include Pizza (Italy), Moussaka (Greece), Goulash (Hungary), Bangers and Mash (UK), Paella (Spain), and Bouillabaisse (France).
What are some popular dishes from South America?
Popular dishes from South America include Arepas (Venezuela), Asado (Argentina), and Ceviche (Peru).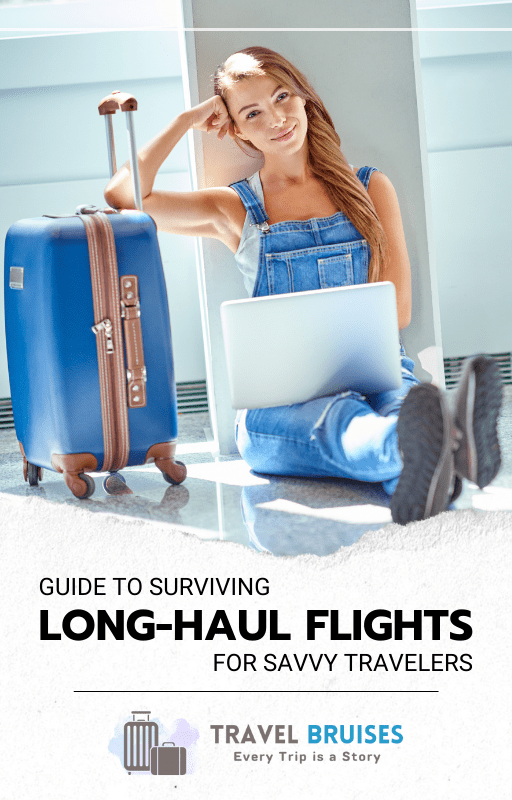 Discover the Ultimate "Surviving a Long-Haul Flight Guide"
Whether you're jetting off to a distant paradise, exploring a vibrant city, or visiting loved ones on the other side of the world, we know that surviving a long-haul flight is no small feat. But fear not, wanderlust seeker, because we have the ultimate solution to make your journey an absolute breeze!
Don't let a long-haul flight be a roadblock to your travel dreams. With our "Surviving Long-Haul Flight Guide," you'll be equipped with the wisdom and knowledge to conquer the skies and make every moment of your journey count.
Download your copy of "Surviving a Long-Haul Flight Guide" and unlock the secrets to conquering those marathon flights like a pro!